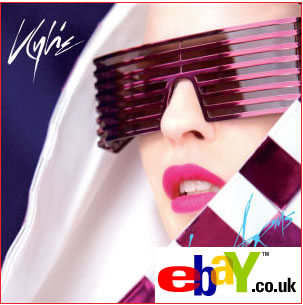 The EMI Group has sent a legal letter to a UK user selling a promotional copy of the soon to be released Kylie single,' In My Arms' on eBay
Although most people are aware of the litigious actions of the music business, particularly in the US where they took legal action against their customers, accusing them of copying music, EMI UK seem to be going into overdrive on this one.
This latest clampdown on selling promos on eBay marks a new departure, with the company threatening to "not hesitate to pursue any and all available remedies whether at law or in equity (and including but not limited to damages)," if a number of conditions were not met.
Remember that this is for selling a single on eBay and not shifting suitcases stuffed full of dodgy DVDs! Although the single is a promo, the seller insists that he bought it in a charity shop, reckon that he might be able to make a few bob out of it on eBay seeing as it hadn't been released yet.
The growing pile of legal corresponence that we've seen to date would make you think that EMI are chasing a criminal mastermind rather than a lowly ebay private seller.
The conditions demands he had to confirm to were …
A. The immediate return of the Promotional Record. You should send the Promotional Record to this office marked for the attention of the Content Protection Department. IT IS IMPERATIVE YOU RETURN AND NOT DESTROY THE ITEM.

B. The immediate return of all and any copies of the Promotional Record made by you or manufactured for you.

C. Your written:-

(i) Undertaking not to further infringe our rights in and to the Promotional Record;

(ii) Undertaking that all commercial activity with respect to the Promotional Record ceased immediately upon receipt of this letter,if not prior thereto, and will not be resumed in the future;

(iii) Confirmation of the specific circumstances surrounding your acquisition of the Promotional Record including, but not limited to, the identity of the individual or individuals who provided the Promotional Record to you, how you became aware of its existence and the amount of money (if any) paid by you in exchange for the Promotional Record;

(iv) If bidding has already ended and the product has been sold, confirmation of the name and address of the entity or person(s) who purchased the Promotional Record at auction. How much did you sell the same for? We require written proof of the sum paid;

(v)Confirmation of details of all other media, including other internet sites, through or via which you have offered the Promotional Record for sale.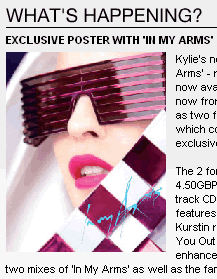 It looks like EMI are going to need an automated system given the number of promos on eBay currently. They might do well to adjust the system clock though as the one we've seen had its date to respond shown as 7 May 2007!
Having sought advice from friends on the discussion forums of Urban75, he's been met with a variety of advice including interesting ideas like "Just change the listing price to 0p and increase the postage," thus avoiding 'selling' it.
Want to help? Bid For It!
If you fancy getting involved with this, one way might be to bid the eBay auction up, showing your displeasure at what appears to be a hammer to crack a nut.
The single is due for Euro release on 5th May (So Kylie's site tells us), but having listen to it on YouTube, frankly it's not her best, but the outfits are pretty good.