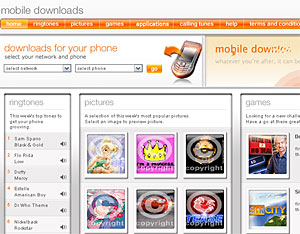 Telecoms giant Orange are reporting a substantial fall in the demand from customers for ringtones, as punters make use of more powerful multimedia handsets to download full length songs instead.

From December to January, ringtone downloads fell from 117,000 to 100,000, while the total for song downloads hit a new record high of 290,000 full-length tracks.
The growth of more capable phone mobile phones with superior cameras has also led to a slowing down in wallpaper image downloads, with customers preferring to using their own snaps for the background to their phone screens.
Despite this, Orange's 15.6 million customers still downloaded 100,000 images a month – an increase of 3% – over the three months to January 2008.
Test messaging is still hugely popular in the UK, with Orange customers sending an average of more than 1.3bn text messages each month between November and January, registering a hefty increase of 21%.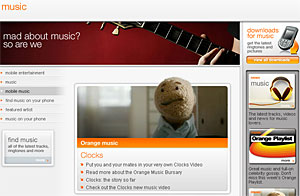 However, global information group TNS reckons that texting is set to go the way of Gary Glitter's career in the future, as mobile operators start to serve up instant messaging services such as AIM and MSN Messenger.
Recent research by the company involving 17,000 people in 30 countries found that once users started using mobile instant messaging, the use of text messaging plummeted.
Their study found that out of every 100 texts, email or picture messages sent by users without mobile instant messaging on their phones, 38 were text messages.
However, as soon as the phones were were equipped with mobile instant messaging, the number of texts went down to just 23 per 100.
Matthew Kirk, head honcho of Orange's portals business disagreed, commenting that they had seen no significant drop in texting after his company launched instant messaging on his network.
"What we are seeing is there is a greater usage of text messaging among the older groups," he said.