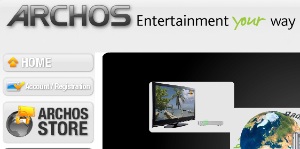 Here in London today, Archos has announced an expansion of content that's available through the Archos Content Portal and Media Club – alongside three other announcements today (more later, including podcasts).
There's a few new content providers joining the current companies, the most well know of these is Paramount. They'll be making an initial 100-160 of their films available through the online Archos service from May.
Pricing of the content has yet to be fixed and it's expected to be available for rental and to own.
Joining them will be Jamendo an aggregator of music content licensed under Creative Commons, and German content owner Deutsche Welle.
For those who are feeling highly charged, there's also adult, or 18+ content available through Marc Dorcel. Number of films available are expected to initially be around 70.
Speaking to the Archos people at the launch, they say that they're getting lots of content companies happy to speak to them about deals – quite a shift from a few years ago.