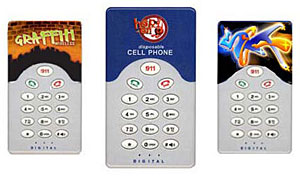 When it comes to a slimmed down feature set, you won't get much more Spartan than the Eur13 disposable cell-phone, a $20 (£10) GSM phone which, as its name suggests, is designed as a throwaway handset.


According to reports an as-yet unidentified European distributor has slapped the money down on the desk and ordered an initial test purchase order of 10,000 phones from the US-based gadget maker Hop-on.
The rock bottom handset is basically a box with a dialpad and earphone/microphone. There's no LCD screen, no indicator lights, no text facility and, basically, no features at all apart from the ability to make and receive calls via the internal Texas Instruments chip set.
Hop-on are hoping to shunt their Eur13 disposable cell-phone into Europe in vast numbers, with their president, Peter Michaels, enthusiastically proclaiming, "This is one of our biggest opportunities to actually have Hop-on become a household name in the US and throughout Europe."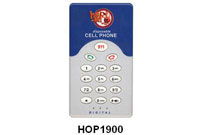 "No one sells a new $20 GSM cell phone!", he exclaimed before adding that his company is also targeting the Middle East, Asia and India.
"Bottom line, most people just want to make a phone call. We will sell millions of these phones!" he whooped as our hearts sank at the prospect of yet more disposable electronics being unleashed on the planet.
ChitterChatter Phone
Although the cheap as chips handset isn't listed on the company website, we did spot the intriguing 'Kids Phone' which comes packaged in a "fun, reusable lunchbox" and lets any Internet or SMS enabled phone identify the location of the device within 300+ feet, in "approximately 1 minute."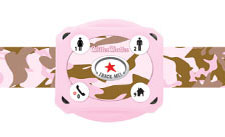 Claimed to be the world's smallest GSM/Enhanced Location-Based-Services(LBS) Locator Phone (we're not sure there's a great deal of competition in that market right now), the makers claim that the ChitterChatter Phone "provides a totally unique and affordable way for families with pre-teens, seniors, or those with special medical needs, to stay connected and in contact with each other."
ChitterChatter Phone Features
Bands: Tri-band 850 / 1800 / 1900 MHz
Speed Dial: Mom, Dad, Home, 911 plus Additional Numbers
ChatTrack: Press the "Track Me" button to send the address of your location to Mom & Dad's cell phones via SMS message.
Phone Book: PIN-Protected with up to 7 numbers
Call Block: Optionally rejects calls from numbers not in Phone Book
Polyphonic Ring Tones: Included
GPS Tracking
Speaker Phone
Talk Time: Up to 2 hours
Standby Time: Up to 100 hours
Indicator Lights: Yellow, Red, Blue & Green
ChitterChatter Phone