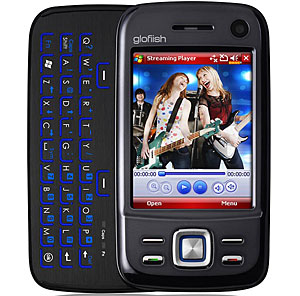 Taiwanese technology types E-TEN have whipped away the white sheet covering their new Windows Mobile powered Glofiish M750 and M810 smartphones and are waiting for the gasps of "must have" admiration from the market.
The two phones are near-identical, although the Glofiish M750 smartphone loses the 3G UMTS/HSDPA support of its bigger bro,' offering GPRS/EDGE data connectivity instead.
Both phones pack a QWERTY slide out keyboard, Wi-Fi (802.11b/g) and a generous 2.8″ 65k colour TFT, QVGA touch screen, offering a rather modest 240×320 pixels resolution.
The Glofiishes (Glofiishi?) purr along on Microsoft Windows Mobile 6.0 Professional OS with 256MB of Flash ROM onboard with a microSD card slot offering additional expansion.
E-TEN have included a rater measly 2 megapixel camera with auto-focus on the new phones, as well as Bluetooth 2.0, built in Java and GPS support, with a claimed battery life of 4 hours talk time or 8 days of standby.
Either phone should keep your pockets amply filled with their substantial 110mm x 59mm x 17.5mm (4.3″ x 2.3″ x 0.7″) girth, and weigh in at 179g (6.3oz) with battery.
Both phones are excepted to be rocking into your world in the next few weeks.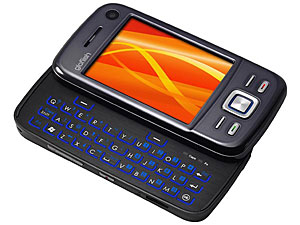 E-TEN Glofiish M750 specs
OS Windows Mobile 6.0 Professional
Band GSM 850/ 900/ 1800/ 1900MHz
Data GPRS/ EDGE/ Wi-Fi
Size 110mm x 59mm x 17.5mm (4.3″ x 2.3″ x 0.7″)
Weight 179g (6.3oz)
Battery Life Up to 8-10 days standby
Up to 4-6 hours talk time
Main Display 2.8″ 65k colour TFT, QVGA (240×320 pixel) resolution
Camera 2 megapixel, auto-focus w/macro
Video Playback/capture
Messaging MMS/SMS
Email POP/IMAP/SMTP
Bluetooth v2.0
Memory RAM 64MB, ROM 256MB, microSD card slot
Availability May 2008
QWERTY keyboard, speakerphone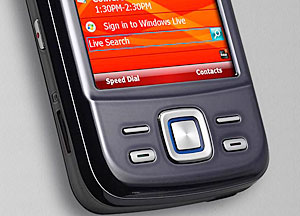 E-Ten M810 specs
OS Windows Mobile 6.0 Professional
Band GSM 850/ 900/ 1800/ 1900MHz, UMTS 850/ 1900/ 2100MHz
Data GPRS/EDGE/HSDPA/Wi-Fi
Size 110mm x 59mm x 17.5mm
(4.3″ x 2.3″ x 0.7″)
Weight 179g (6.3oz)
Battery Life Up to 8- 10 days standby
Up to 4-6 hours talk time
Main Display 2.8″ 65k colour TFT, QVGA (240×320 pixel) resolution
Camera 2 megapixel, auto-focus, 2nd camera for telephony calls
Video Playback/capture
Messaging MMS/SMS
Email POP/IMAP/SMTP
Bluetooth v2.0
Memory RAM 64MB, ROM 256MB, microSD card slot
Availability May 2008
QWERTY keyboard, speakerphone