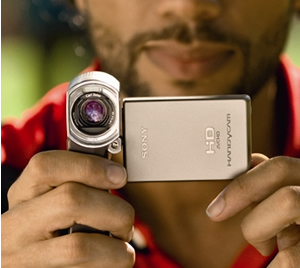 Sony has announced the Handycam HDR-TG3E, claiming it to be the World's smallest HD 1080 Camcorder – and judging by the photos we've had through, they're more than likely right. The thing looks tiny.
Sized at little larger than a mobile phone (33 x 119 x 63.5mm and 283g), Sony say it's the smallest, slimmest, lightest camcorder ever to feature 1920×1080 Full HD recording with crisp 5.1ch surround sound.
The little baby has a pure titanium body — another world first — with a scratch-resistant premium hard coating.
One way that Sony has made this little blighter so small is by recording on to Memory Stick PRO Duo media, rather than hard drive for tape as other companies have. It comes with a 4GB card (which should give about 1.5 hours recording time) and can take up to the 16GB version, recording up to 5 hours 55min of full HD films (in long play mode).
4Mpx stills too
As with many camcorders, the TG3E can also take stills – 4Mpx when in photo mode, and even 2.3Mpx while video recording.
The cam has Sony's Intelligent Face Detection (as featured in our IFA Cyber-shot T200 video), recognising up to 8 faces in one scene, making it easier to shoot people in different situations.
Film transfers and Bravia TV link up
Getting your master pieces from the camera memory to DVD has been made easy, when using the supplied Handycam Station, simply at the press of a single button.
Tying the Sony Bravia TV to the TG3E brings the advantage that the tiny camcorder can be controlled using the TV remote control, while displaying it's content via an HDMI cable.
It's going to be available from May 2008 and the price will be announced next week.