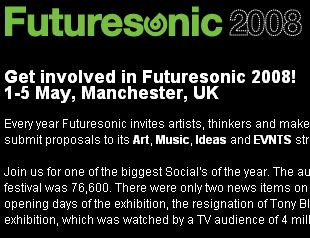 Futuresonic, an Urban Festival of Art, Music & Ideas (as they describe it), is being held again this year.
It's running 1-5 May in Manchester and is looking like a really interesting, rounded event.
There's many elements to the event, as it's title implies, covering five days of free Art — like the first major art exhibition to present a comprehensive and creative look at social networking; Music — including the seminal group Wire, for goodness sakes, with the headliner RZA (the genius behind Wu-Tang Clan and producer of soundtracks for Kill Bill and Ghost Dog) – as Bobby Digital in a showcase of leftfield hip-hop.
Strong conference too
The theme of the conference is Social Futures: Online, Mobile and Unplugged Social Networking – so plenty to chat about there.
Chum of Digital-Lifestyles, Gerd Leonhard, will be presenting at the conference, heading a huge list of other presenters, including free software hero Richard Stallman, Dopplr founder Matt 'black belt' Jones and Scott Cohen (who was on a panel I chaired at the W3C conference in Edinburgh) – founder of The Orchard, Justin Hall (who I had the pleasure of meeting at SXSW in 2003) presenting for his new PMOG game, and many, many academic speakers.

Summary – The conference looks like it has a great roster of speakers and all for an amazing £100 in advance.
Looks brill
All in all, it looks really interesting and we're going to do our best in getting along there.
If you want to get tuned up on what else will be happening, Futuresonic will be holding a series of online discussions in Second Life, every Thursday during April.