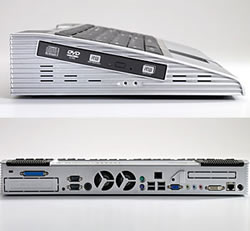 Great nostalgic tears of Commodore-based joy welled up in Chez Digi-Lifestyles when we clapped eyes on the Cybernet Zero-Footprint-PC ZPC-GX31.
Sharing a near identical form factor to the late, great Amiga A1200, the ZPC-GX31 (hey, snappy name guys!) packs all the PC gubbins into a chunky keyboard-on-steroids case, freeing up the desktop from all the usual cables, boxes and bits'n'bobs.
With such bijou dimensions (18.5″W x 9.0″D x 0.5″H front, 2.5″H rear) you might expect performance speeds to match that of a Mogadon-loaded slug crawling over a hot treacle pie, but the specs aren't bad at all.
Lurking inside the beefy keyboard is an Intel Core 2 Quad CPU, backed by a generous 4GB of DDR2/667MHz RAM, 1GB LAN, a CDRW-DVD or DVD+/-RW optical drive, memory card reader, 4 USB ports, and a DVI interface.
Audio support comes courtesy of a Realtek High Definition Audio chipset with two built-in 2.5 watt stereo speakers and three audio jacks for Audio Out, Line-in, and Microphone, and the built-in Synaptic two-button touch-pad means you can keep your mouse in its cage.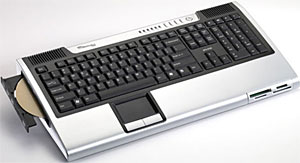 Sadly, the included Intel G31 graphics chipset means that this thing is never going to get gamer's joysticks fragging, but it could be a useful buy for folks looking for a basic and small desktop machine that doesn't hog da house.
Priced at $700 (£350) the ZPC-GX31 looks to be quite an interesting number, although some may prefer the more traditional lines of the Shuttle small PCs.
Either way, we're pretty sure that Cybernet will have improved on the Amiga's heat dissipation – after we'd fitted a trapdoor acceleration card the thing ran so hot we had to drill a hole in our desktop and wedge in a fan!