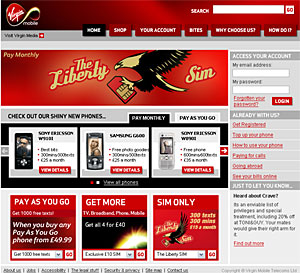 Virgin Mobile have launched a new 'Liberty Sim' mobile tariff, offering a Sim-only deal with monthly deals costing between £15 and £30.
Users aren't tied to lengthy contracts – just a 30 day notice period – and they can keep their old number and phone (so long as they unlock it first).


The cheapest tariff starts at £15 per month ('Virgin £15 Talk') and gives users the choice of 300 minutes talk time and 300 texts, or 150 minutes and 1000 texts.
The twenty quid a month tariff gives users the choice of 450 minutes and 450 texts or 300 minutes and 2000 texts, while the Virgin £25 Talk (£25 a month) deal looks to woo serial yackers, offering 600 minutes and 600 texts or 750 minutes and 750 texts.

Virgin Mobile are also lobbing in an upgrade allowance, offering punters £10 towards their next phone for every £100 spent (up to £100 in total), plus free itemised billing and free voicemail in the UK.
Managing director of Virgin Mobile Graeme Oxby wanted to spread the love: "The Liberty Sim represents a fantastic opportunity for cost conscious consumers who don't want to be tied into a lengthy contract."
Head of Mobile for Money Supermarket Rob Barnes was also keen to spread the positive vibes around, adding, "This is perfect for customers who are happy with the phone they already have and provides a significant saving over similar value contract plus handset deals."
There's no denying that the deals look better than bundled handset tariffs, but it's worth hassling your own network provider first if you're happy with your current phone, come contract renewal time.
As long-time contented Palm users, we had no interest in 'upgrading' our phone when it was time to renew our T-Mobile contract, but after some serious hassling we managed to extract substantial deductions on our monthly contract.