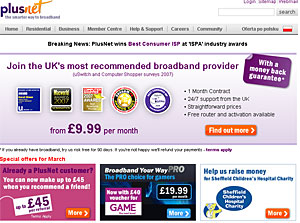 Around half of the UK's broadband users are less than chuffed with the service they're getting from their Internet providers, despite improved speeds and cheaper deals.
According to a survey by the price comparison service uSwitch, punters are having a good old moan about their broadband service, even though high-speed connections are both cheaper and faster than before.


About 15 million customers shell out £3bn for their broadband connectivity every year, but the survey of nearly 11,000 broadband customers discovered that an estimated four million customers are not happy with their service provider, while the users of four out of nine companies are less happy than they were last year.
Moreover, the gap between the companies perceived as best and worst providers is widening, say uSwitch.
PlusNet come out on top
PlusNet emerge as the best Internet provider, notching up 86% customer satisfaction. The company – which was bought by BT a year ago – scooped up nine out of 11 categories, including best customer service and best technical support.
Things weren't so rosy for their parent company, with BT coming at the bottom of the pile for the second year on the trot when it comes to value for money.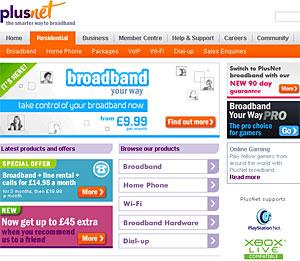 Sky shimmied ahead of Virgin Media to take second place overall, with eight out of 10 customers satisfied.
The worst overall broadband provider was Orange, with over a third of their half a million customers not feeling the love for their service.
Of course, this stat feast should be taken with a teensy pinch of salt when you consider that it was commissioned by a company who make their dosh by encouraging punters to hunt out new deals and switch services like… Internet providers.