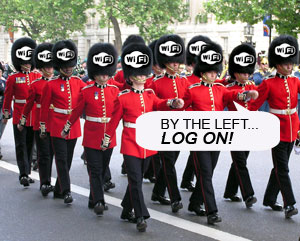 London still rules the roost when it comes to Wi Fi connectivity, with usage soaring 156 per cent and hotspot Harrys spending an average of 72 minutes online per session, according to iPass's 'Wi-Fi Hotspot Index' which reports on Wi-Fi use for the second half of 2007.


Their study put Singapore and Tokyo in second and third place in their Wi-Fi city league table, with Tokyo only just trailing its Asian neighbour after ratcheting up a hefty 118 per cent growth.
Rummaging through the figures we see that Wi-Fi hotspot usage by business bods increased 89 per cent over the same period the year before, with growth in Europe accelerating past the US – Wi-Fi usage grew 142 per cent in Europe compared to just 61 per cent in the US.
However, the US is still the most popular region in the world for overall Wi-Fi usage, followed by Europe and Asia Pacific. The top Wi-Fi countries break down as follow:
1. US
2. UK
3. Germany
4. Switzerland
5. The Netherlands
6. France
7. Japan
8. Australia
9. Belgium
10. Brazil Business use of wireless hotspots almost doubled last year but the increasing popularity of 3G as a mobile broadband technology is also fuelling the connectivity storm.
Where's the Wi-Fi?
Not surprisingly, traditional business travel venues are where most of all that Wi-Fi connectivity is going on, with airports accounting for almost half (45 per cent) of Wi-Fi sessions overall, with hotels notching up nearly one-third of global usage.
Railway stations and ferries also also contributed to worldwide Wi-Fi growth, with freebie in-train Wi-Fi likely to keep pushing the figures upwards.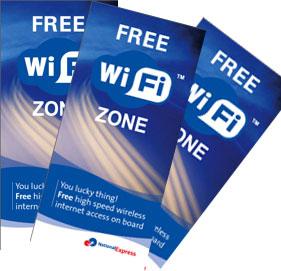 In the UK, National Express recently introduced free Wi-Fi on the UK's East Coast Main Line, with the rail operator reporting that Wi-Fi usage has tripled since access fees were removed.
3G mobile broadband
To reflect rising usage of cellular technologies for getting online, iPass has renamed its twice yearly survey to the 'Mobile Broadband Index.'
Their report noted that monthly usage of 3G mobile broadband was on the up throughout 2007, despite high access prices.
Average usage was up from 152MB per user in Q1 to 190MB in Q4, while the report found that a large number of users were still using Ye Olde 2.5G technology, with 62 per cent of users grinding around the web at 2.5G speeds at some point each month.
A spokesman for iPass commented on the report: "The results of our Mobile Broadband Index suggest that no single technology can meet all the needs of an enterprise workforce. While 3G provides broadband download speeds in domestic metropolitan areas, users need Wi-Fi hotspots for fast bi-directional access everywhere else as well as to avoid high international 3G roaming charges. We expect both Wi-Fi hotspots and 3G to continue to grow as enterprises roll out a complete toolkit to their mobile workers."