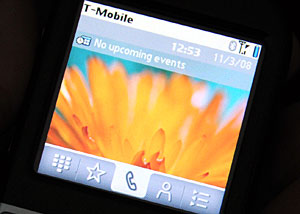 In this final part of our review we check out the software, test the battery and give you our conclusion.
Software
Palm packs a generous package of software with the Centro including the excellent Documents To Go 10 (for reading, editing, creating and syncing full Office 2007 Word, Excel, PowerPoint and text files), Pocket Tunes for MP3 playback, and all of the usual Palm PIM applications and utilities.


There's only Bluetooth 1.2 onboard, so if you're one of those strange people who like to strut around listening to music with a blue flashing blob in your ear, you'll have to shell out for the third party Softick Audio Gateway which supports Advanced Audio Distribution Profile (A2DP).
The onboard Blazer browser is a fairly rudimentary affair, but it's good enough for most jobs, and we were able to access popular sites like Facebook, BBC and MySpace with no problems.
There's support for streaming video and audio media via the embedded Kinoma player, although YouTube videos struggled horrendously down a slow GPRS data connection.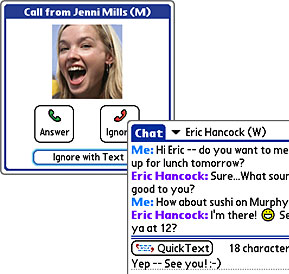 There's also Googlemaps pre-installed plus Versamail, a fully featured email client which can handle handle multiple accounts, POP3/IMAP, scheduled downloads and background operation.
Palm's superb threaded SMS is present and correct (this lets you view text 'conversations' like IM chats), and the phone comes bundled with the Palm PC/Mac Desktop and Outlook integration for keeping your phone synched with your computer.
Although we had no complaints with the functionality, it's a shame that Palm hadn't sprinkled a little fairy dust over the interface, which is certainly showing its age now. At least there's the option to install skinning programs like PalmRevolt which can drag the interface into the right decade.
Battery
With Palm shrinking what is basically a Treo 680 into a much smaller package, there was only room for a 1150mAh removable battery, which claims a 3.5 hour talk time and 3 days standby.
That's roughly what we've found so far, although using third party programs like Power Hero can considerably add to the battery life. The phone conveniently charges from the supplied USB cable too, while power users might want to look out for a Seido extended life battery to be released in the future.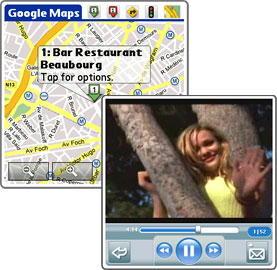 Conclusion
We liked this little phone a lot. Although its shortcomings are there for all to see – it's 2008 and still there's no Wi-Fi, 3G or GPS to be found and the operating system has barely changed in years – it's still one of the fastest and most intuitive mobile interfaces around, and it feels fun to use.
Lots of neat, user-friendly touches abound, and the vast array of third party software available gives the Centro a flexibility unmatched at this price point.
At the launch, Palm kept banging on about how the Centro was aimed at the 18-35 market but we think they're missing a trick. Seeing as the phone has a QWERTY keyboard, can natively read, edit and create most Office documents better than its competitors, can handle full email with Outlook integration and offers access to a colossal suite of excellent third party programs, we can see business users also finding this phone worthy of a closer look.
The keyboard might not be for everyone, but we liked it, as we did the the phone's design. In fact, we think it's rather an attractive little number, and it frequently attracted positive comments from friends when we were out and about.
We suspect that's Palm's lack of UK advertising muscle and UK network support (coupled with the absence of 3G) will stop the Centro matching its US success, but the phone's legendary ease of use, small form factor, friendly OS and low price point makes this a phone we can recommend without hesitation. We liked it so much, we went out and bought it (good job too, seeing as Palm weren't able to offer a review model until two weeks later).
The Centro is available for around £179 unlocked from online stores such as Amazon and Expansys, with free T-Mobile contract deals available from Expansys.
Our verdict
Ease of use: 88%
Build: 82%
Features: 77%
Voice quality: 90%
Value for money: 90%
Overall: 88%
Specifications
Display 320×320-pixel Transflective colour screen; supports 16-bit colour (up to 65K colours)
Radio Quad band (850/900-1800/1900) GSM/GPRS/EDGE Class 10
Platform Palm OS 5.4.9
Bluetooth Version 1.2
Memory 64MB available user storage
Camera 1.3 megapixels with 2 x digital zoom and video capture
Battery Removable 1150mAh, lithium-ion up to 4 hours talk time, up to 300 hours standby time
Expansion microSD card (up to 4GB supported, sold separately)
Connector Multi-connector
Dimensions 4.22″ (h) x 2.11″ (W) x 0.73″ (d); 4.2 oz
Colours Black
System Requirements Windows XP, Windows Vista, Mac OS X v10.2-10.4
Bundled software
Calculator, Camcorder, Camera, Contacts, Calendar, Tasks, Memos, Documents to Go Professional Edition 10, Google Mobile Maps, HotSync, My Centro, Phone, Pics and Video, PocketTunes, Quick Tour, VersaMail 4.0, VoiceDial , Voice Memo, Web (Blazer 4.5), World Clock, Solitaire and Palm Files.