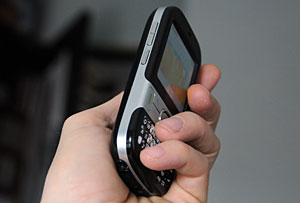 Yesterday we started getting to grips with the Centro, today we take some calls and check out the camera.
Taking calls
As a straightforward phone, the Centro performs very well indeed.


When you receive an incoming call, the phone displays the name and caller photo (if you've added one) with a handy "Ignore by Text" option letting you decline the call and blast off a quick SMS message to the caller.
While on a call, related options and functions are displayed onscreen with finger sized buttons letting you switch to speakerphone, start a conference call, mute the mic, switch lines on call waiting or lookup something in your datebook while remaining on the call.
Another example of the Palm's user-friendliness is the dialogue box that pops up after taking a call from an unknown number which asks if you'd like to add it as a new contact or assign the number to an existing contact.
The quality of the phone was excellent too: calls were clear and loud, and reception higher than average.
The speakerphone was also impressively loud for such a small phone – users shouldn't have any problem missing calls or not being able to hear the other end when calling on hands free. It sounds pretty good playing back music too.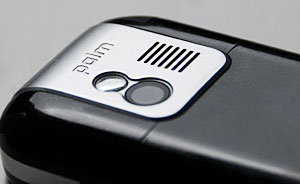 Camera
Although the camera is only a 1.3MP job, it's better than average, isn't too sluggish to start up and take pictures and should be fine for everyday snapshots and maybe postcard-sized prints. There's also a video recorder onboard for small clips, but the quality is pretty low with much pixellation, while the side button can be used to trigger the voice recorder application.
Although the Palm OS can't support proper multitasking, we were impressed with its ability to run several background operations at once – for example, we had no problem emailing a video via ChatterEmail while playing back music and snapping away with the camera with no juddering or slow down. Impressive stuff for an ancient OS!
The Centro comes with 128 MB of NVFS memory with just under 69MB for user-available storage – it may not sound much to Windows Mobile users but it's ample considering the leanness of most Palm apps.
Expansion comes in the shape of a microSD slot which is able to officially accept microSD cards up to 4 GB in size (users have reported bigger cards work too, even if the Centro doesn't report their correct size).
Also worthy of note was the Centro's backlighting which made it very easy to use the keyboard in the dark, and its long established (and much copied) simple on/off switch for sound at the top of the handset.
Catch our conclusion and scores in the final part of the review tomorrow.