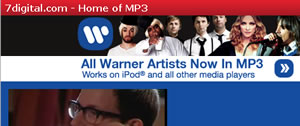 Warner Music is making its music catalogue available on music service 7digital in MP3 format, without no content protection.
Having a peruse of the 7digial site, we see that they're also banging out albums for £5/€6.99 — for a limited period — which for a track-filled album like Hatful of Hollow by the Smiths can be had for 31p per track against the 79p normally paid.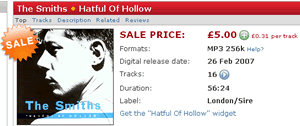 Price pressure on iTunes
Albums for a fiver will create an interesting competitive pressure for Apple's iTunes. iTunes have their own under a fiver category, but at a glance, they appear to be less popular albums.
It is of note that the 7digital track downloads are at 256k, where as 7Digital are keen to point out that 'a large proportion' of their tracks are available at 320k.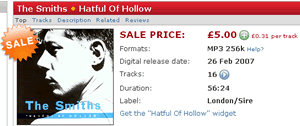 The functionality of the 7digital site is good, giving the features you'd expect from iTunes, but all from within a browser — so accessible on any computer — another possible advantage over iTunes.
Recent Funding
Back at the end of January 7digital raised a further £4.25 million in a round lead by Sutton Place Managers. At the same time 7digital announced that they now had over 1.1 million customers and had increased sales 188% over the previous year.