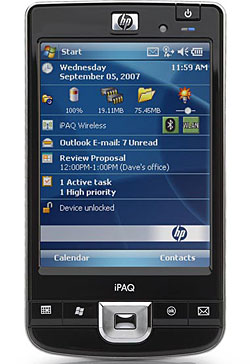 We know that PDAs are supposed to have gone the same way as Sarsaparilla bars and 8 track cartridges, but HP's much-delayed shiny black iPAQ 210 seems worthy of a look after
Packing an almighty 4 inch 640 x 480 touchscreen LCD, the iPAQ comes with more connections than Clapham Junction, offering both CompactFlash and SD (with SDHC and SDIO support) slots, 802.11b/g Wi-Fi, Bluetooth 2.0 EDR, and USB 2.0 and docking options in the shape of a 24-pin iPAQ connector and Mini-USB connector.


Zipping along with a 624 MHz Marvell XScale PXA310 inside (with hardware video decoding), the iPaq runs Windows Mobile 6 Classic and packs 128 MB RAM and 256 MB flash memory.
Mind you, it's a bit of a pocket bulging beast compared to slimmer rivals like the Palm T|X and the Dell Axim X51v PDAS, measuring up at 5.0 inches long x 3.0 inches wide x 0.63 inches wide, with the whole shebang weighing 6.8 ounces.
There's also a metal stylus lurking inside (sadly, still an essential for getting around Windows Mobile) but the lack of a built in camera is a right swizzle and make no mistake.
If you don't mind the reduced wow factor, the iPAQ could make a useful alternative to the Apple Touch, with the PDA coming with an internal microphone and speaker, secondary VoIP speaker and useful 3.5mm headphone jack.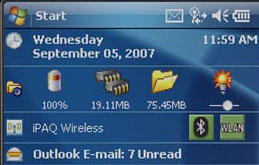 Battery life should be respectable too, seeing as there's a beefy 2200 mAh replaceable Lithium Ion onboard, with an optional 4400 mAh extended battery available.
Navigating around the iPAQ is accomplished via the touchscreen, backed by 5-way directional pad and 3 remappable application buttons.
With the built in CF card we could seem photographers taking an interest in this fella, but the price is a bit of a wetfish face-slap though, with iPAQ demanding a wonga-tastic $450.