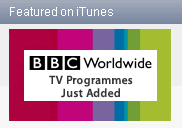 A selection of BBC TV programmes are, from today, available to be bought on iTunes.
BBC Worldwide, the commercial side of the corporation, has penned the deal, which has been long anticipated.
Individual episodes will cost £1.89 with some available as a series bundle, an example being the Catherine Tate Show, selling at £9.99 for six episodes.
No doubt Apple see this as quite a coup, as the BBC name continues to be well regarded around the world. The BBC are also the first broadcaster to offer their programming via iTunes.
The content is currently somewhat limited, with the expected long-running 'favourites' being there, Little Britain, The Mighty Boosh, Two pints of lager (do they still make that thing?), Torchwood, Spooks – you get the picture.
Is it value?
We do struggle a little with the pricing.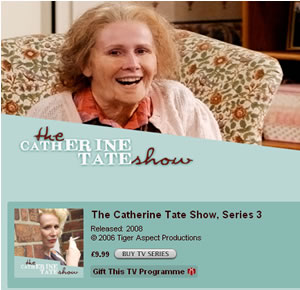 While we're all for electronic delivery — we've been banging on about it for nearly a decade now — but we firmly believe that the savings that are gained from it, should be passed on to the consumer, not retained by the content owner.
Without sharing this benefit, the video content business is in danger of making itself appear like the music biz at the point that CD was introduced – grabbing hold of the increased margin. We all know what the majorities view of the music biz has been following that approach.
Using the third series of the Catherine Tate Show, originally broadcast in 2006, as an example. Amazon are currently selling the DVD of the series at £12.98 (or from £11.20 used) – iTunes want £9.99.
Beyond the obvious huge difference in cost between delivering a set of programming, electronically over the Internet and actually manufacturing and distributing a physical product like a DVD – there's a question of resolution.
Format and Quality
Although the encoding of the clips that we've seen in the online preview have been impressive, even at full screen, the video on the physical DVD format is a higher quality, being that it's not compressed.
When it's in the physical DVD format, owners also able to watch it on whatever device they feel like, TV, computer, etc. This isn't the case with the iTunes download, as they're held in QuickTime format.
Should it be free?
Some will feel that it's pretty rich that the TV programmes that they already paid for through their TV license are being sold back to them.
The other side of that argument is that the BBC have merely commissioned the programmes to be created — with part of the budget sometimes being contributed to by BBC Worldwide — with the external production company retaining the rights of the programme following its broadcast. Meaning that the BBC _can't_ give it away, even if they felt like it.
As an alternative to paying for it, some may choose to use the many TV sites that are around to watch the content for free.