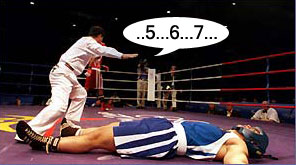 After a long battle with its rival Blu-Ray, Toshiba has admitted that it is considering throwing in the towel and getting the hell outta of the high-definition DVD business.


Late last week, Wal-Mart, the biggest retailer in the known universe, said it was no longer feeling the love for Toshiba's HD-DVD disks and players, and that its heart was won by Sony's Blu-ray DVD format.
The format has already taken a hell of a kicking in Hollywood with Paramount being the only big American studio staying loyal to the HD-DVD format, and the 135-strong corporate alliance making up the HD-DVD consortium are expecting the group's "total collapse" within the next few weeks.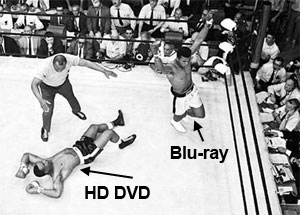 The speculation that Toshiba will be dumping its HD DVD aspirations went down like a banana smoothy cocktail on a Friday night with investors, with shares in the company leaping 6 per cent in Tokyo (Investors portfolios were also palpitating at the news that Toshiba will be building two new NAND flash memory plants.)
If Toshiba do abandon the platform, they'll be leaving lots of deeply unchuffed consumers behind who now find themselves the proud owners of the Naughties answer to Betamax, with collections of HD-DVD films that are doomed to slowly age with no new content coming in.