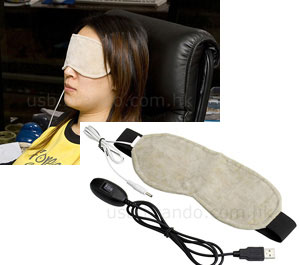 Like us, we're sure that many's the time you've found yourself unable to make progress on a pressing deadline because your eyes felt too cold. Or perhaps you work in a room with an icy breeze and would like something to keep your peepers toasty?
Well – to paraphrase Charles Aznavour – Thank 'Eavens For USB Eye Warmers.
Yep, those niche-defining bonkers boffins at our favourite daft device emporium, Brando, have pulled another breathtakingly useless gadget from out of their labs in the shape of a USB powered Eye Warmer.
Yep, that's right. Something to keep your eyes warm, powered by your very own computer.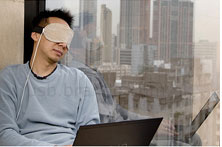 We'll let them describe their latest gadget for you:
"Eyes get fatigued from staring at the computer screen all the day? Just put up the USB Eye Warmer, it can warm up your eyes and help you to get rid of tired. It not only relaxes your eyes but also comforts your entire body. It is lightweight and portable that you can carry with you anywhere. Users can control temperature at hand by the power on/off switch."
Quite why anyone would want to sit tethered to their laptop with a pair of these mad things covering their peepers is anyone's guess, but they're available from Brando's site for just $15.