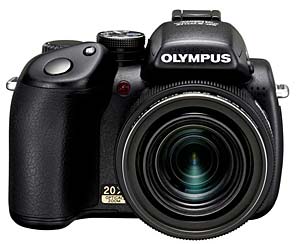 With the Photo Marketing Association's big PMA08 annual in Las Vegas looming, some of the photo big boys have been prepping their new models.
One of the first out of the blocks is Olympus, who have dropped details of no less than nine shiny new consumer cameras (see full listing below), with the zoom-tastic Olympus SP-570 UZ being the one that caught our jaded eye.

Boasting a colossal 20x optical zoom, the 10 megapixel SP-570 UZ can claim to wield the longest superzoom lens on a compact camera, delivering a mighty 26-520mm zoom range, with a macro capability down to 1cm.
With a lens that long there's always the threat of camera blur, so Olympus have dutifully kitted out the camera with their Dual Image Stabilisation system, backed by a speedy 15fps burst rate (at low res) and a pre-capture mode recording up to five frames before the shutter is even released.
The camera comes with automatic shooting and manual (P/A/S/M) control options, with no less than 22 optimised scene modes to keep point and shooters on top of every metrological possibility. These range from the useful (landscape/night scene) to the obscure (cuisine) to the plain bizarre (auction).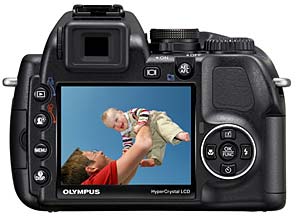 RAW shooting is also possible, and movie clips can be recorded at up to 640 x 480 at 30 fps, strangely limited to just 10 seconds. Olympus are steadfastly – and stupidly, in our opinion – sticking with their xD-Picture Card storage format, forcing consumers to buy into yet another format.
Also sporting Olympus's High ISO Settings, Face Detection Technology, Shadow Adjustment Technology and TruePic III image processor, the SP-570 UZ will a-shimmying onto shelves in March 2008 with a recommended retail price worryingly deep into dSLR territory at £389.99.
Olympus SP-570 UZ specs
Sensor
1/2.33″ Type CCD, 10.0 million effective pixels
Image sizes 3648 x 2736, 2560 x 1920, 2048 x 1536, 1600 x 1200, 1280 x 960, VGA 640 x 480, 16:9 1920 x 1080
Movie clips 640 x 480 / 30 fps, 640 x 480 / 30 fps
Maximum clip length 640 x 480: 10 sec, 320 x 240: 29 min
File formats RAW, JPEG Exif v2.21, AVI (Motion JPEG) with WAV audio
Lens 20x optical zoom, 4.6-92.0 mm (26 – 520 35 mm equiv), F2.8- F4.5
Image stabilisation Dual Image Stabilisation
Conversion lenses 48.4 mm Use CLA-10 to attach conversion lens
Digital zoom 5x
Focus modes Single Autofocus, Face-Detection AF, Predictive AF, Manual focus, Macro, Super Macro
Focus distance Standard / Macro: 10 cm-infinity (wide), 1.2 m-infinity (tele)
Super Macro: 1 cm closest focus distance
AF area modes TTL iESP auto focus with contrast detection, 143-point selectable spot AF
Metering ESP Multi-Pattern, Centre-weighted, Spot
Live Histogram Yes
ISO sensitivity Auto, ISO 50-3200, ISO 6400 in reduced pixel mode
Exposure compensation +/- 2EV in 1/3EV steps
Exposure bracketing 5 frames, +/- 1/3EV steps
Shutter speed 1/2 – 1/2000 sec
Modes Auto, Program Auto, Aperture Priority, Shutter Priority, Manual
Scene modes Portrait, Landscape, Landscape with Portrait, Sports, Night Scene, Night Scene with portrait, Indoor, Candle, Self-portrait, Available Light Portrait, Sunset, Fireworks, Multi Fireworks, Cuisine, Behind Glass, Documents, Auction, Shoot & Select 1, Shoot & Select 2, Smile Shot, Beach, Snow, Shutter Chance
White balance controls Auto, manual
Self timer Yes
Continuous shooting Sequential shooting mode 1.2 fps / 7 frames (Full Image Size)
Sequential shooting mode (high speed) 7.2 fps / 30 frames (in 5MP mode), 13.5 fps / 30 frames (in 3MP mode)
Interval shooting Yes
Flash AUTO, Red-eye reduction, Fill-in, Off, Red-eye reduction & Fill-in, Slow synchronisation
Range (wide) 0.3 – 4.5 m (ISO 200) 6.4 m (ISO 400)
Range (tele) 1.2 – 2.8 m (ISO 200) 4.0 m (ISO 400)
Flash compensation +/- 2 EV
Viewfinder LCD electronic viewfinder, LCD monitor 2.7-inch LCD, 230,000 pixels
Connectivity Combined USB 2.0 Hi-speed and AV output, DC input
Print compliance PictBridge, Print Image Matching III, DPOF
Storage xD-Picture Card (Panorama mode available when using Olympus branded cards), 47 MB internal storage
Power 4 x AA batteries
Weight (no batt) 365 g (12.9 oz)
Dimensions 116 x 78.5 x 78 mm (4.6 x 3.1 x 3.1 in)
The full new Olympus range
FE Series (due in February)
FE-310 – 8 megapixel, 5x zoom, 2.5-inch LCD
FE-340 – 8 megapixel, 5x zoom, 2.7-inch LCD
FE-350 – 8 megapixel, 4x zoom, 28mm wide angle lens, 3-inch LCD
Mju / Stylus series (due in February)
Mju 840 – 8 megapixel, 5x optical, 2.7-inch LCD
Mju 850 SW – 8 megapixel, 3x optical zoom, 2.5-inch LCD, waterproof to 3m
Mju 1010 – 10.1 megapixel, 7x optical zoom, 2.7-inch LCD
Mju 1020 – 10.1 megapixel, 7x optical zoom, 2.7-inch LCD
Mju 1030 – 10.1 megapixel, 3.6x zoom, 2.7-inch LCD, waterproof to 10m
SP series (due in March)
SP-570 UZ – 10 megapixel, 20x wide angle zoom, OIS, 2.7-inch LCD