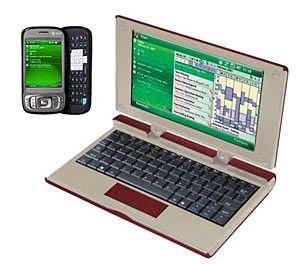 Significantly 'inspired' by Palm's doomed Foleo laptop, Redfly's Mobile Companion picks up the abandoned concept and packs it into a rather ugly package promising to extend the capabilities of Windows Mobile smartphones.
Boasting an 8-inch, WVGA (800 by 480 pixel) screen and packing very similar functionality to the Foleo (even the name is similar: Celio!), the portable boasts instant on, tight integration between mobile/laptop, a trackpad, USB 2.0, video out and a not-to-be-sniffed claimed battery life of 8 hours.

Conspicuous by its absence is Wi-Fi, with the device relying on the mobile phone for all connectivity – a crippling omission in our book.
The Celio works like this: you're grabbing your email on your smartphone and a client sends you a complicated Excel document while asking some head scratching questions.
Although your smartphone is capable of reading Excel files, the tiny screen means that scrolling around is giving you the heebie geebies, so you whip out your Celio and link it to your phone via a USB cable or slower Bluetooth connection.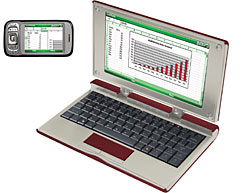 The spreadsheet is then immediately displayed on the larger screen with no synchronizing or re-downloading needed – a process that requires 'no configuration' or fiddling with settings, according to the company blurb.
Unlike the Foleo, this is a real dumb terminal, with the device only capable of running what's on the phone – so there's no native applications.
There's also no built in memory or memory slot, there's no speakers onboard and – worse of all – there's no built in web browser, so users would be forced to use the basic Windows Mobile browser. Movies would appear on the Celio in a tiny square in the centre of the screen.
Measuring just 1 x 6 x 9 inches and weighing 2 pounds, Redfly are hoping that this will attract mobile business travellers looking to lose some bulk and sales force managers keen to kit out their execs with an easy to use basic laptop with low overheads.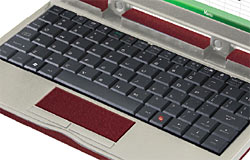 With its price tag set at an upmarket $500, we can't share their enthusiasm. Although we're, like, totally down with the 'mobile companion' concept- we would have loved to have owned the Foleo – the Celio appears woefully over priced and the lack of wifi is simply unforgivable.
With fully featured cheaper laptops like the ASUS Eee currently tearing up the sales charts, we're really hard pushed to come up with a single reason why we'd want to buy this thing.
Celio Redfly Mobile Companion Specs
Size 1 x 6 x 9 inches
Weight 2.0 lbs.
Battery Life 8 Hours under normal use via USB
Display Size 8 inch diagonal wide screen
Display Resolution 800 x 480
VGA Display Output 800 x 480
Keyboard 8.3 inch 80-key QWERTY keyboard
Touchpad 1.0 x 2.9 inches
Special Fn keys Fn buttons are hot-keys for phone control
(i.e. send, end, OK, esc, left menu, right menu, etc)
Operating System Compatibility
Windows Mobile 5.0 (Pocket PC and Smartphone editions)
Windows Mobile 6.0 (Professional and Standard editions)
See tested smartphone list at www.celiocorp.com/smartphone
Application Compatibility
Applications and data from the smartphone appear on the REDFLY enabled display
Ports and Connectors VGA port, 2 high speed USB 2.0 ports, AC power connector
Smartphone Connection via Bluetooth Bluetooth 2.0 EDR (compatible with Bluetooth 1.0, 2.0)
Smartphone Connection via USB Use USB cable included with smartphone
Smartphone Charger via USB Able to charge smartphones via USB (as supported by phone)
USB Flash Drive Compatibility Standard USB Flash Drives (Drives appear on smartphone file system)
USB Keyboard Compatibility Standard USB Keyboards
USB Mouse Compatibility Standard USB Mice
AC Power Charger AC Power Adapter Input: 90 – 264VAC, 47 – 63 Hz, Output: 9VDC, 2.5A
Operating Temperature 0 degree C min (32 degrees F), 55 degrees C max (131 degrees F)