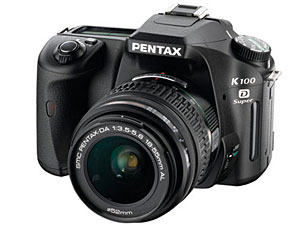 2007 was a great year for dSLRs, with a highly competitive market seeing camera quality rising and prices falling – there's never been a better time to snaffle a digital SLR!
Here's our faves and recommendations from last year.
Bargain basement dSLRs (under £400)
Pentax K100D Super
(around £390/$550)
Although the megapixel count is lower then we would have liked at just 6MP, the K100D is a well specified, entry-level SLR wrapped up in a fairly rugged, curvy package offered at a rock-bottom price.
Offering a dust removal system, 11 point auto focus, a top shutter speed of 1/4000, ISO up to 3200, a 2.5-inch LCD and sensor-shift image stabilisation, the K100D packs enough functionality to keep demanding snappers – and point'n'shooters happy.
The Pentax-developed Auto Picture Mode makes life easier by automatically selects one of five Picture modes, including Portrait, Landscape and Macro, by calculating photographic factors to deliver optimised shots, leaving users untroubled by worries about aperture, shutter-speed, white-balance and all the other spoddy stuff.
For consumers looking for an unthreatening, compact, point-and-shoot camera capable of producing sharp, crisp and colourful pictures with little fuss, the £350 Pentax K100D kit (with 18-55mm kit lens) could be the perfect starter DSLR.
Shutterbug review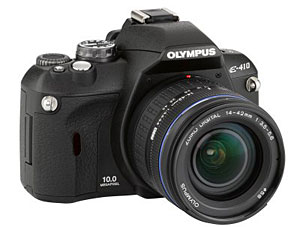 2. Olympus Evolt E-410
(around £370/$550)
One of the smallest and lightest dSLRS available, the E-410 offers pleasingly simple old-school looks with a thoroughly modern performance.
With its ultra-compact size, good handling, slew of well-explained scene modes and easy-to-use interface, this is a great carry-everywhere camera, with the Live View and the built in sensor cleaning adding icing to the budget cake.
Although we loved the look and feel of this diminutive snapper, we did find the viewfinder a little squinty and rued the lack of a dedicated auto focus lamp.
Despite this, we reckon the camera would make a great introduction to those interested in getting into SLR photography, and with the E-410 body plus 14-42mm ED lens retailing for around £380, the kit represents excellent value.
Check out our in-depth review here: Olympus Evolt E-410
Look out for Part Two, where we give you the best budget dSLRs under £500 in 2007.