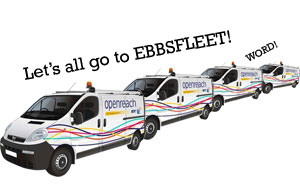 We're not sure what the residents of humble Ebbsfleet in Kent have done to deserve this, but they're set to be the first residential location in the UK to be connected to a high speed fibre-optic cable network, serving up the UK's fastest broadband service.

Lucky Ebbsfleetians (Ebbsfleetites? Ebbsfleeters?) will shortly be able to gorge themselves on trouser-flapping speeds up to 100Mbps, with BT claiming that the service will allow multiple HDTV channels to be watched simultaneously.
HDTV gamers will also be able to rock to a full graphics experience, while the near warp-speed connectivity should afford near-instantaneous music downloads.
The fibre-optic cable will be used in place of Ye Olde traditional copper on a new 1,000 acre new build project at Ebbsfleet Valley in Kent.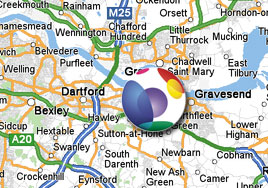 This will see the service being made available to 6 million square feet of commercial space and 3 million square feet of retail, leisure and community facilities in the 'hood, with residents getting a slice of the action from August 2008.
Steve Robertson, chief executive of Openreach, said: "This is our first deployment of fibre rather than copper to residential customers on a new build site. It will enable communication providers to gauge what demand exists for very high speed broadband, and to assess what commercial models may be appropriate in the future."
"Unlike many other countries, in the UK we offer all our products on a fully equivalent wholesale basis. We are very proud of that commitment, and its clear and positive effect on the overall market," he added, with his chest all puffed out.