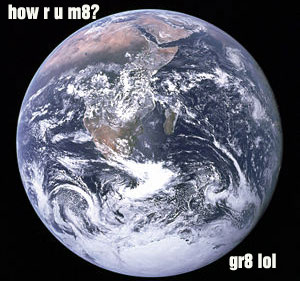 The whole blinkin' world is going SMS bonkers, with a leading technology research firm predicting that no less 2.3 trillion messages will be sent across major markets worldwide in 2008.
The eye-wateringly hefty figure represents a 19.6 percent increase from the 2007 total of 1.9 trillion messages, with research outfit Gartner expecting mobile messaging revenue to grow by 15.7 percent in 2008 to $60.2 billion, up from $52 billion in 2007.

Text traffic volumes are expected to carry on showing strong growth in many markets, but operator margins on messaging services are rapidly delardifying as a result of competition and market saturation.
The compound annual growth rate (that's the 'CAGR' to those in the know) for SMS revenue in major markets worldwide from 2002-2006 was 29.8 percent, but the forecasted SMS revenue for 2007-2011 has slumped down to 9.9 percent.
"In many markets, there has been strong pressure on operator margins for text messaging services and this has been driven by often intense competition between carriers," explained Nick Ingelbrecht, research director for Gartner who created the "Market Trends: Mobile Messaging, Worldwide, 2006-2011" report.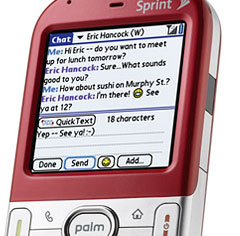 "At the same time, consumers have grown accustomed to large or unlimited bundles of inclusive SMS as part of their basic cellular service package. Carriers should plan for a future of much reduced margins on messaging services. They should develop messaging platforms, services portfolios and pricing plans that support the broader objectives of customer acquisition and retention, rather than short-term margin enhancements," he added.
Mustard keen texters in Asia/Pacific and Japan are the biggest users of mobile messaging, with a flurry of keystrokes knocking out an estimated 1.5 trillion messages in 2007.
In the States, Gartner reckons that 189 billion mobile messages were sent in 2007, with the total to hit 301 billion in 2008.
"The market is being driven by increased penetration of users, more frequent usage of peer-to-peer messaging, and unlimited and bucketed messaging plans," observed Tole Hart, research director at Gartner.
"There has also been some uptake of mobile e-mail via POP3 mailboxes and mobile IM service, but it's very small compared with the uptake of SMS. These services are used primarily as an extension to a PC. However, the market is seeing a number of consumers using BlackBerry and Palm Treo devices to access address books, phone numbers and e-mail," he added.
There's been an increase in mobile messaging in all Western European countries, with 202 billion mobile messages sent in 2007, and a total of 215 billion messages looking likely for next year.
The increase of mobile consumer e-mail (thanks partly to higher smartphone adoption) looks set to damage SMS growth, as will the growing amount of Instant Messaging applications being made available.
"To sustain growth over the next few years, carriers should look to social-networking applications to drive traffic, working where possible with popular established social-networking sites," commented Ingelbrecht.