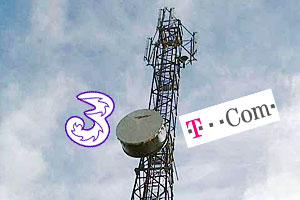 In a cunning move aimed at saving the two companies £2 billion over the next 10 years, T-Mobile and 3 UK have slapped backs and agreed to team up and share a national, HSPA-enabled 3G network in the UK.

The 50:50 joint venture company will regale under the name of Mobile Broadband Network Limited, with both operators working as equal partners in planning the development and operation of the integrated access network. By combining resources and physical assets vast pockets of spondulas can be saved, helped by the decommissioning of over 5,000 duplicate mast sites.
Once the combo network is up and running – a process that will take just over two years according to the operators – "blanket" UK population coverage will be provided, offering connectivity to 98% of the whole population of the UK. And that will make it the most extensive HSDPA network in Europe, fact fans!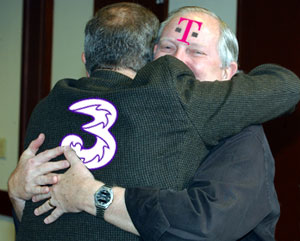 Both companies will, however, continue to operate their own core networks independently and compete against each other in the UK mobile wholesale and retail markets.
Jim Hyde, Chief Executive of T-Mobile UK, let rip a PR puff: "3G is a transforming technology, but this will be the first time that a 3G access network in this country is able to achieve both the reach and the capacity to meet the needs of the future. Our aim, quite simply, is to ensure the customer is always best connected."
"From 2008, customers can expect to have access to high-speed 3G services in a greater number of locations than we can currently serve over our existing infrastructure. By collaborating with 3 UK, we can achieve this quicker and with greater economy – that's a win-win in anyone's language," he continued, win-winningly.
T-Mobile is owned by Germany's Deutsche Telekom and 3 is in the hands of the Hong Kong conglomerate Hutchison Whampoa. Which sounds a bit like the noise you'd make if you sat on a sea urchin.