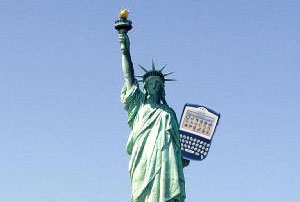 Based on nothing more than our wholly unscientific personal observations over the course of a two week stay in the Big Apple, we can declare that the Blackberry is far and away the number one phone in Manhattan.

Throughout our travels around Manhattan, Brooklyn, The Bronx, Staten Island and Harlem, we'd regularly see various Blackberry's being wielded on the subway and the streets.
The second most popular phone we spotted was the trusty old Treo – in both Palm and Windows versions – followed by a myriad of flip-phones, which seem to enjoy a lot of popularity across the pond.
Big chunky aerials also seemed to go down with the NY massive, both on old Palms and various flip phones. Incredibly, you can still buy new phones with man-sized aerials, which would be laughed at by many Europeans, as would some of the ugly designs.
Although we only saw a handful of iPhones being used, there's certainly a considerable buzz about them and we'd often hear people enthusing – sometimes a little too loudly for our tastes – about their shiny new Apple phone.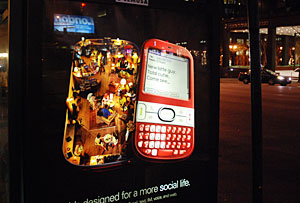 On billboards, two products dominated; the Palm Centro, which seems to have been given an almighty push on the streets and Apple's iPods, with both companies looking to scoop some dividends from the build up to the holiday season.
Nokia were also aggressively promoting the N95, although we're not so sure about the effectiveness of their message which seemed primarily concerned with pointing out that it's not a closed system like the iPhone.
More info: European vs. American mobile phone use
Apple's new store had just opened when we arrived, helping increase the dominance of Apple in the metropolis: when it comes to laptops, Mac laptops absolutely rule the roost in NY and we don't think we ever saw any other music player than an iPod.
We also took time out to pop into Wired Magazine's temporary retail store in SoHo. Dubbed 'Buzz Today, Gone Tomorrow,' the store featured interesting new and prototype tech products. Expect a report shortly!