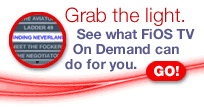 Just over two years ago we covered the launch of FiOS TV, an IPTV service by US operator Verizon, that operates over fibre optic connections.
HD VOD – High Definition Video On Demand – has now being rolled out to a number of the regions covered by the FiOS TV service – Richmond and Virginia Beach, Va.; Tampa, Fla.; Fort Wayne, Ind.; and Pittsburgh.

Close on the heals of these will be Washington, D.C., metro area, Massachusetts and Rhode Island; and the Verizon's remaining FiOS TV markets next year.
Verizon are building up their offering of HD channels with the intention to reach 150 by the end of 2008 and the ambition to hit more than 1,000 HD VOD titles in 2008.
Shawn Strickland, Verizon's vice president of video solutions was keen to enthuse, "We're delivering HD on demand with the same amazing picture quality that customers expect from FiOS TV — and with the promise of more HD programming in 2008."