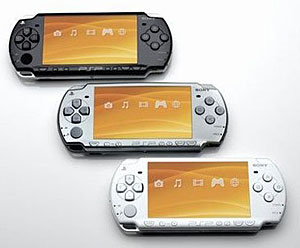 Sony has announced that their less-lardy version of its PSP handheld gaming device has been eagerly scooped up by over one million gamers in Japan, notching up one million sales in September.
The slimmer, lighter version managed to fly past the one million mark in just eight weeks – a big improvement on the original PSP which took two and half months to notch up the milestone sales figure.

The 'PSP 2' is 19 per cent slimmer and 33 per cent lighter than its predecessor, offers a slightly better battery life and comes in a range of colours including rose pink and felicia blue (whatever that is).
A contentment video-out port has been added, so gamers can admire their gaming prowess and watch UMD movies by plugging their PSP into a larger screen.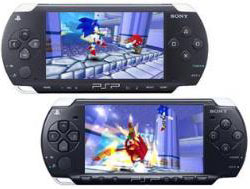 Sony were prompted to start chiseling some lard off their handheld gaming device in the face of buoyant Nintendo DS Lite sales, which continues to outsell the PSP; in the week to 18 November, 76,069 DS Lites were bought compared to 65,609 PSP sales.
The new slimmer look and groovy colour schemes were also designed to appeal to a wider segment of the market, including the laydees, apparently.
Sony has stated that it's aiming to shift 10 million PSP units worldwide in the year ending in March 2008, substantially less than Nintendo's goal of selling 28 million DS handhelds.
Elsewhere rumours persist that Sony is developing a PSP phone with Sony Ericsson, despite official denials.