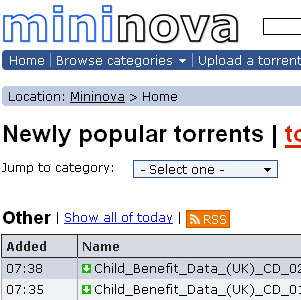 With the story that the UK's bumbling HM Revenue and Customs managed to lose two computer discs containing all the nation's child benefit records along with the personal details of 25 million people, it's not surprising that cheeky wags and scamsters on the Internet have been quick to respond.

Despite the best efforts of the Metropolitan Police, the National Audit Office, Revenue and Customs staff and courier firm TNT, the two discs have failed to materialise, which is a serious concern considering they are said to contain the National Insurance numbers, names, addresses, dates of birth and bank account details of people who received child benefit.
Perhaps they should have looked on the MiniNova torrents site, where these discs are currently being offered under 'Classified Personal Data' as "Child Benefit Data_(UK)_CD_01" (688.61MB) and "Child Benefit Data_(UK)_CD_02" (692.45MB).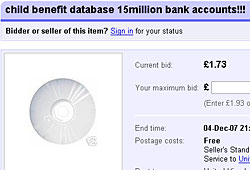 We didn't bother downloading the torrents as it's 99.9999% certain that it's going to be nothing more than dodgy porn or viruses masquerading as the lost CDs, but we have to admire the opportunism of it all. A similar entry was also found on PirateBay.
Meanwhile, a CD listed as 'child benefit database 15 million bank accounts!!!' could be found on eBay for just £1.73 with an 'Alastair Maclean Darling' an early bidder.
Should the real Mr Darling be raising his hopes at seeing the listing, we fear the item description might disappoint:
"spoof child benefit database for sale and 6 other disks to a bloody bargain lol may get lost in the post to buyer but dont panic it happens all the time!!! will use tnt parcels just to make sure lol!!"
(Note: not surprisingly, this listing has now been pulled by eBay.)