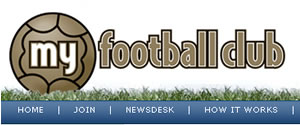 The UK football club that is being bought by Web site, MyFootballClub has been announced today.
MyFootballClub (MyFC) is a revolutionary Web-based idea that will see the decisions of the management of the club – transfers, player selection and all major decisions – carried out by the paid-up members of the site – perhaps one of the only true forms of democracy still left. Thinks of it as fantasy football, but with a real team.

They've agreed a deal in principle to purchase a controlling stake in Ebbsfleet United FC (formerly Gravesend & Northfleet). Placed 9th in the Conference football league, Ebbsfleet is one promotion from reaching the Football League for the first time in its history. MyFC will get a 51% controlling stake and have the option to purchase the club outright in the future.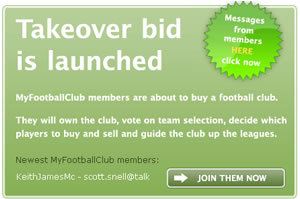 Buying a club like this give a great chance for the member to tip it over the edge to promotion and anyone can own a bit of the fun for just £35/year.
Background
MyFC reports that they'd been in discussion with 9 clubs, with Halifax Town being the only football club that had publicly discussed that MyFootballClub had been in discussion with them, but they got sold to another party.
MyFC members have been supporting and encourgaing others to sign up, such as Vladikavkaz,
"I paid my £35 and within 2 hours I was offered a promotion at work, found a twenty pound note on the street and got kissed by a beautiful woman! Joining MYFC changed my life, and it can change yours too!"
Anyone, worldwide is able to sign up as a member.

Current Manager To Stay
Liam Daish, the current manager, will change his title from Manager to Head Coach, in recognition of the unique role he will perform. Liam's backroom staff, including assistant Alan Kimble, will remain.
Daish commented, "As a football fan, I think the MyFootballClub idea is fantastic. And as the coach, I look forward to the challenge of working with thousands of members to produce a winning team. Alan Kimble and myself are 100% committed to making this work."
The Ground & Location
Ebbsfleet FC play at Stonebridge Road in northwest Kent – close to London. A high speed 15-minute domestic service from St Pancras will be introduced in 2009 making it a doddle for Londoners to get to.
The ground has a capacity of 5,248 of which approximately 4,000 is standing. The club has a 17-year lease to play there the with a peppercorn rent. Plans are ongoing to build and move to a new stadium in the vicinity.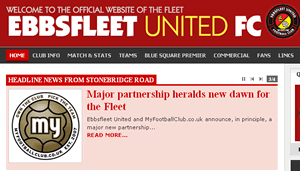 Analysis
We think this is a brilliant idea – in terms of the world's Internet public owning a business and managing it through democratically made decisions, carried out online – as far as if it will be good for the club or football generally, we've no idea.
Best of luck to those behind MyFootballClub and their members – there's currently 20,000 paid up, and an additional 30,000 actively watching what's going on.
We look forward to watching this one.
Ebbsfleet United F.C. (Wikipedia)
The offical site (suffering under lots of traffic today)