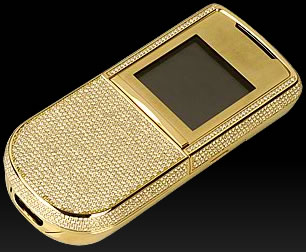 Got 0.25 million Euros rattling around in your pockets and looking for a new mobile phone? KMD-edition will be more that willing to help you out.
They've just released a range of phones that are certainly not for the average man in the street, and not just because of the cost.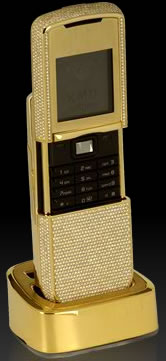 You want diamonds – they got diamonds. All but one gold handset is totally plastered with diamonds, ready for you to take your pick from – Yellow gold with white diamonds; Rose gold with white diamonds; White gold with white diamonds; White gold with black diamonds – all 1,700 of them.
Cheapskates – or perhaps the more tasteful end of the spectrum – may be draw to the Yellow gold or Red gold editions, sans diamonds. The gold ones start at 49,000 Euros.
All are handcrafted (jolly good job too!) and made to order with expected orders coming from those who speak German, English, Russian and Chinese.
Brian Eno Ringtone
It's not just the hardware of the phone that is high speced – the ringtone has been composed by instigator of Ambient music, Brian Eno.
The package the handset comes in isn't your normal cardboard box, it's is a wooden cigar-type box, made from rosewood or bird's-eye maple. Indeed even the charging unit is gold-plated.
Unlike the majority of phone makers who make extra profits by charging for accessories, KMD-edition include hand-crafted napa pouch case, two bluetooth headsets, two chargers and two power-packs as standard.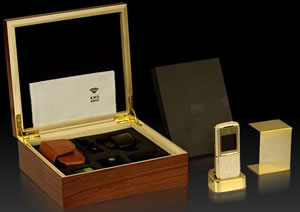 Vertu, the uber-posh/ expensive handsets launched by Nokia, is already addressing this market and have been since 2002. The current top of the line phone from Vertu is the Signature Cobra, which costs $310,000, slightly less than the most expensive KMD-edition.
Looks like the insides of KMD phone might also be a Nokia, as KMD-edition say that "data synchronization via the Nokia PC Suite."
If it's a technically speced camera that you're after, you need to look elsewhere, as this one only has a 2Mpx – but it does have Triband – look out!
We suspect that this isn't one phone that will be thrown away at Xmas.
KMD-edition (Flash-tastic)