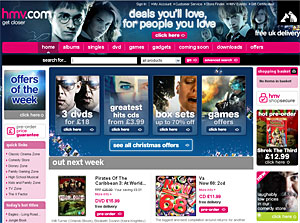 Retail big boys HMV and Play.com have announced that they will be joining the online party by launching their own film download services in the next six months.
Play is understood to be whipping out its a movie download service within the next few weeks, while HMV's service is still getting polished up for a launch at the beginning of next year.

A report on the New Media Age website says that HMV is hellbent on making itself a major playa and claiming a significant place in the market before some other big shot Charlie turns up to claim the pie.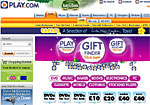 "Next year is going to be very important for downloadable film," said Gideon Lask, HMV ecommerce director.
"We don't want an 8-tonne gorilla to place itself in the room like iTunes did in the music industry," he added.
Industry analysts Nielsen Online have reported that online TV, video and film sites is enjoying healthy year-on-year growth of 91%, with September 2006's tally of 641m minutes viewed nearly doubling a year later as the total hit 1.2bn minutes.
"It's definitely coming because of improved PCs and bandwidth," said Alex Burmaster, European Internet analyst at Nielsen Online.
Elsewhere, BT Vision's broadband service – which offers a 80GB Freeview PVR with video-on-demand – has failed to capture the public imagination with a mere 60,000 boxes sold since its launch – far short of the "hundreds of thousands" of units initially targeted.