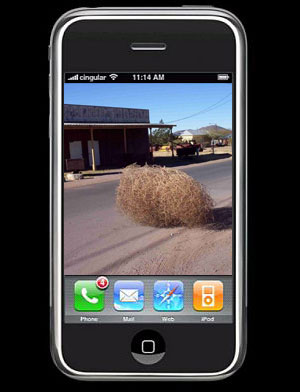 Despite the Apple's corporation's best attempts to foist a ghastly US-style, all-whoopin' and a-clappin', backslappin', high-fivin', luxury goods-spendin' iPhone 'event' on us Brits, initial reports suggest that the great occasion failed miserably to live up to the pre-launch hype. It doesn't look like the UK sales on Friday are going to be adding to the expected 3m iPhone sales.
With the clock ticking down to the Apple-decreed hour of 6:02pm on Friday night, stockists Carphone Warehouse, O2 stores and Apple's own retail chains were ready and waiting to deal with the expected rampaging hordes of credit card wielding punters desperate to shell out £269 for the privilege of owning an iPhone and spending 18 long months in the expensive company of exclusive carriers O2.

As the media whipped itself up into a storm of hyperbolic expectation (not us you may have noticed), camera crews were dispatched to the four corners of the land to record outbreaks of the anticipated iPhone hysteria, while O2 had announced that it was bussing in 1,400 extra staff to cope with the colossal demand. Railings and crowd barriers were assembled around key stores for fear of massive crowd surges toppling over entire buildings.
On the eve of the great day, a handful of tragic fanboys camping outside Apple's flagship London store duly obliged with enthusiastic media interviews, saying that they were all shivering in the freezing November night to play their part in an 'event' that involved nothing more than, err, a handful of people shivering in the freezing November night.
Writing in the Telegraph, Sam Leith was even less impressed with the all-night fanboy campers, offering this useful guide:
"Technology Clinic: Your iPhone Questions Answered
Q: What is the correct term for an adult human being who's prepared to spend upwards of £1,200 to own a mobile phone for 18 months, just because it is made by Apple?
A: A wazzock.

Q: What is the correct term for an adult human being who will pitch a tent outside a shop overnight in order to be one of the first people on Earth to spend upwards of £1,200 to own a mobile phone for 18 months, just because it is made by Apple?
A: An utter wazzock.

Q: Does the Apple corporation do a valuable service to the general population by rolling out the iPhone, so that wazzocks and utter wazzocks can be quickly identified and – where appropriate – persecuted?
A: It does."
Launch day
Come the great day, Apple's flagship London store was still reporting much smaller queues than expected, with numbers struggling hard to exceed single figures by mid afternoon.
With the company desperate to stir up iPhone hysteria for the assembled cameras, the BBC reported that shop staff were swiftly sent forth to walk up and down the lines of people "whipping them into a frenzy".
Come 6:02pm and things were finally looking reasonably busy in the media-saturated London store even if customers were being forced to endure toe-curlingly embarrassing staff antics, as each successful purchase was celebrated by air-punching and loud whooping.
It seems that the fever didn't last too long, with a poster on urban75 remarking:
"Absolutely no need to queue as the Apple store on Regent St was clear of queues by 6.30 – less than half an hour after launch! I walk past it every night on my way to the station, and asked one of the half dozen coppers who'd been posted there what he thought: "All this for a bloody phone, and there's no people!" Came the response with a chuckle.
The till may have been ringing in the flagship stores (for a while at least), but elsewhere the Web was resonating with talk of near-empty stores and non-existent queues.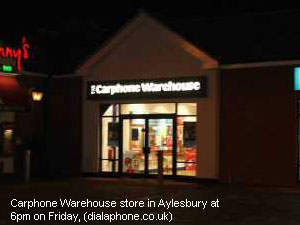 Dialaphone ran an article peppered with photos of deserted Carphone Warehouses entitled, iPhone Crowds? Don't believe the hype! while the Register wasn't impressed either, declaring that "Tumbleweeds outnumber punters, as iPhone's First Night flops".
Elsewhere, PC Advisor was declaring the UK launch "a disaster", detailing customer frustrations as the "complex purchase process was brought to a halt by the system failure."
While there's no denying that the iPhone is an important new product and one that should have a major and positive impact on the mobile market, we seriously hope that the ice-cool response to Apple's manufactured, swaggering consume-fest may make them think twice before starting up the ruddy whooping again.