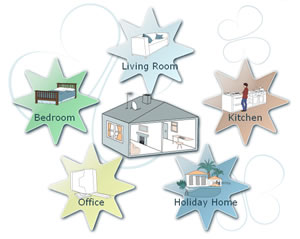 We toodled along to the launch of Babel TV, a new TV/ PVR/ Internet/ Computing device, earlier this week.
Sadly we have to use that long, awkward description because, as yet, no one's come up with a snappy term to match its wide range of functions.

Babel TV is the brainchild of Peter Dawe (Podcast with him below), the man behind the formation of early major UK ISP, Pipex.
It's creation was borne through frustration (sounds familiar?) at finding many of his home devices having many different interfaces and controllers, as well as having to spend a couple of hours a month maintaining his PC to ensure that it continued working.
With this in mind he set about creating a simple to use PVR with additional computing functions.
Their solution is a low-power PC box running their own collection of software (open source as it turns out) to provide what they view as all of the application or tasks that you want to use on a computer/TV.
A few more details on the £295 box, it's a 1.2GHz VIA chip that only draws 16 watts, which means that it runs cool enough not to need to have the fans running (although two are currently installed). No fans means no noise, making it usable in a living room, bedroom, and other quiet rooms.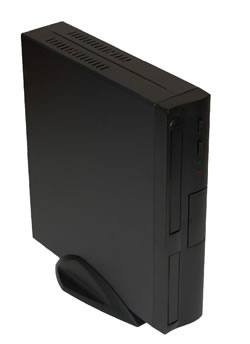 By their reckoning there's only 7 types of applications that are used by most users – Broadcast (radio & TV); Web browsing; email; music; photos; messaging (IM & voice) and Office apps.
While the applications and general set up are held on the local machine, the storage of all data (except for recorded TV programmes) is held on their servers – giving security of data. Babel TV has built a proprietary caching system that saves the data locally, while automatically copying it remotely too. This is a pay for service at the rate of £1 per Gb/month.
That's not the end of it – it's not additional, yet undisclosed functions such as the ability to watch a video that's been recorded on one Babel TVs, on a separate one – in different locations if bandwidth allows.
Babel TV will be providing telephone support "within reason."
We think that BabelTV's idea of aiming it at geeks is a good one – anyone with more that a passing knowledge of computing knows the feeling of being unpaid support line for friends and relatives computer woes. Encourage those people to buy a
During the short amount of time we had to play with the interface we found it responsive and reasonable looking.
The kit in available now from the Babel TV site at £295.
Interview with Peter Dawes
[audio:https://digital-lifestyles.info/media/audio/Peter-Dawe-Babel-TV-launch.mp3]