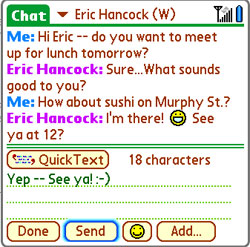 Us Brits are going SMS supersonic, bashing out over one billion text messages every week, according to new figures from the Mobile Data Association (MDA).
The number is up a hefty 25% higher from the same time last year, with a single week's total matching the number of text messages sent during the whole of 1999.

"It has exceeded our forecasts quite significantly," commented MDA head honcho Mike Short, who reshuffled his papers to add that the tally for 2007 looks set to reach 52 billion – miles ahead of the 42-48 billion originally predicted by MDA boffins.
The total for September this year reached 4,825bn texts which – get ready calculator fans – works out at around 4,000 every second. And that's a lorra lorra texts.
Mr Short put the continuing growth of SMS messaging down to the fact that it was, "convenient, comprehensive, it's on every handset and network and it is cost effective."
Noting that companies were increasingly making use of text messaging (presumably not just to send, "U R FIRED" messages), Short said: "It's a lot more convenient for a business now to notify lots of their employees about an urgent message using a text message."
"The UK text volumes show no real signs of abating and the UK sits within the top six of the global league of countries sending text messages," continued Mr Short.
"While the trend towards operators offering 'all-you-can-eat' tariffs increases, this will act as a catalyst for consumers' passion for all things mobile," he added.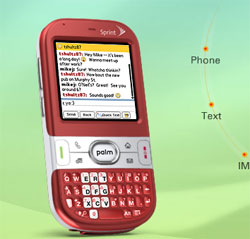 Some text facts
* The first text message was sent in December 1992, and SMS was launched commercially for the first time in 1995
* The first recorded monthly text message total was 5.4 million in April 1998
* August 2001 was the first month in which over one billion messages were sent in the UK
* December 2002 – 1 billion SMS per day were exchanged globally
* 95% of 16-24 year olds use text messaging regularly, each sending an average of 100 texts per month
* On New Year's Day 2003, the number of text messages sent in one day topped one hundred million for the first time
* On New Year's Day 2006, the highest daily total ever recorded by the Mobile Data Association was reached, when 165 million messages were sent
* Annual SMS totals: 1999 – 1 billion; 2000 – 6.2 billion; 2001 – 12.2 billion; 2002 – 16.8 billion; 2003 – 20.5 billion; 2004 – 26 billion; 2005 – 32 billion
* Britons sent 120 million text messages on Valentine's Day 2006, compared to the estimated 12 million cards sent.
* The peak hours for texting are between 10.30pm and 11.00pm