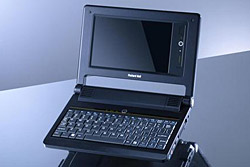 With looks that only a chemically enhanced mother could love, Packard Bell's EasyNote XS teensy-weensy ultra-mobile PC has been given a UK launch.
Claiming to offer all the features of a notebook in a really small package, the EasyNote XS packs a 800×480 resolution TFT screen into its cuddly 230x171x29mm dimensions, and weighs in at a bag-untroubling 950g.

Powering the pint-sized PC is a C7-M 1.2GHz CPU, with 128kB cache and 400Mhz bus speed. Hard core gamers can look elsewhere however, as the onboard VIA VX700 graphics chipset looks to be as powerful as a drunk gnat with a limp.
The wee lappie offers a 'full sized' keyboard and comes with 1GB RAM and a 30GB hard disk. There's also a handy 4 in 1 card reader, DVI-I and two USB ports, with the t'ing motoring along on Windows XP Home Edition.
Wi-Fi and Bluetooth comes en suite, and there's a built-in VGA webcam with integrated microphone.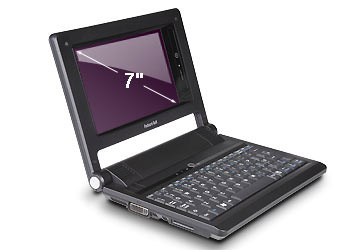 The all- important battery life is claimed to hit three hours, and the EasyNote XS is expected to be sitting pretty on the shelves of PC World stores from November, with prices starting at £349.99.
Fact fans may be interested to learn that the compact notebook will also launch in the US as the Everex CE260.
Specifications:
Operating System Windows XP Home Edition
Dimensions 230x171x29mm
Weight 950g
Processor CPU Model C7-M 1.2GHz
Cache 128kB
Bus Speed 400MHZ
Memory
Installed memory 1024MB DDR
Hard Disk Drive HDD size 30GB
Card reader 4 in 1 card reader
Graphics Chipset VIA VX700 upto 128MB shared
Screen Internal resolution 800×480
Monitor size 7″ TFT
Sound Integrated on motherboard or on PCI Slot Integrated
Communication
Modem No
Ethernet 10/100 LAN
WIFI
Connectors
USB Port (total/front/rear) 2 x USB 2.0
TV out NO
DVI Yes
Audio out YES
Microphone IN YES
Headphone out YES
Keyboard and pointing device
Keyboard type 90 Key Qwerty
Accessories
VGA Webcam
Bluetooth YES
Standard warranty 1 Year Standard