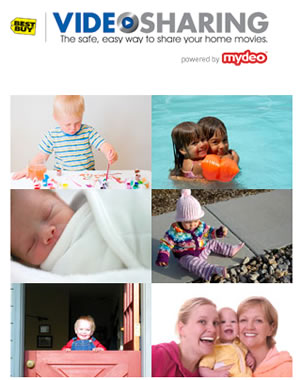 Mydeo, a UK company that lets people securely share video clips on the Internet, has today announced a partnership and investment by electronics retailing giant Best Buy.
Best Buy sell 40% of all camcorders sold in the US, a major benefit for Mydeo, putting them right in front of the people who will be shooting video and looking for a place to host it. The deal was kicked off by an introduction by Microsoft's Emerging Business unit.

Mydeo's service differs from many social networking sites in that it allows you to control who can look at your video, and doesn't show advertising along side the videos – something they feel is far better for families and businesses.
This is clearly not something that is lost on Best Buys, as Kevin Winneroski, vice president, Best Buy enthused, "With the growing popularity of video, fueled in part by social networking sites, we've actually seen an increase in customer demand for alternative video sharing solutions. Many customers, particularly families with children, don't want their personal memories available for anyone to see in the public domain nor do they want to share them in a cluttered environment that includes advertising. Through Best Buy Video Sharing, customers can safely store their videos and share them only with the friends and family they choose."
This is a great deal for Mydeo. They get to work with the US's largest electronics retailer and get merchandised online and in Best Buy's retail stores.
The service is available at www.bestbuy.com/videosharing
(Disclosure: I advised Mydeo during their setup period and hold a share).