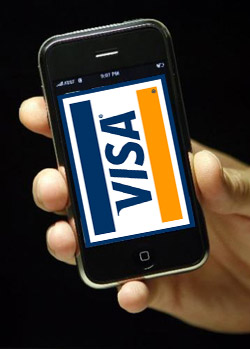 In an intriguing move, Herr Jobs has now dictated that folks without credit cards will not be allowed to purchase an iPhone, declaring that Apple will "no longer accept cash for iPhone purchases."
Moreover, Apple will be limiting sales of the hit iPhone to two for each customer in an attempt to preserve stocks for Christmas and stop people reselling their handsets.
And it doesn't stop there – even if someone bought you an Apple Gift Card with their credit card, you still won't be able to get your hands on the thing!
It appears Obergruppenführer Jobs feels he should control what you do with your premium priced iPhone even after you've bought the thing, and doesn't want you selling your own goods on. Which you own. Which you've paid for.
Or, to put it another way, anyone who chooses not to have a credit card, or can't get one, or has struggled with a bad credit rating can go and whistle when it comes to sharing the iPhone love, because Apple have decided you can't join their club.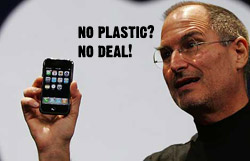 The move sparked off a lively debate on Engadget – a site well known for registering above average in the Apple Fanboi stakes – with with punter remarking, "Wow. Apple really works hard to keep me away as a potential customer for ever."
Although some expressed doubts about the legality of the 'no-cash' policy, Apple's decision is entirely legal under US law, with vendors under no obligation to accept cash for their goods – even if it infuriates some of their customers.
Elsewhere, the New York Times reports that Apple can expect to receive around $831 for each iPhone it sells, with Gene Munster, an analyst at Piper Jaffray calculating the figures:
"AT&T appears to be paying $18 a month, on average, to Apple for each iPhone activated on its network. That adds up to $432 over a two year contract. In other words, Apple will receive $831 for each iPhone it sells."