In a move sure to please football fans arguing the toss on bulletin boards all over the UK, a High Court judge has ruled that lively banter of a "strictly defamatory" nature can still be so trivial that The Man can't always force board owners into revealing poster's identities.

Sheffield Wednesday FC, chairman Dave Allen, CEO Kaven Walker and five directors tried to force Neil Hargreaves, owner of the fans bulletin board owlstalk.co.uk, into revealing the identity of 11 bulletin board posters accused of pursuing a "sustained campaign of vilification" against them.
The club were all hot and bothered about a grand total of 14 messages – all posted under pseudonyms – which they claimed were "defamatory."
The High Court ruled that the posters' privacy should be respected with Judge Richard Parkes QC writing, "the court must be careful not to make an order which unjustifiably invades the right of an individual to respect for his private life, especially when that individual is in the nature of things not before the court."
Referring to the Data Protection Act, Parkes continued: "Equally, it is clear that no order should be made for the disclosure of the identity of a data subject… unless the court has first considered whether the disclosure is warranted having regard to the rights and freedoms or the legitimate interests of the data subject."
The Judge noted that it was relevant "to consider whether the words complained of were, even if strictly defamatory, more than a trivial attack which would not be taken seriously."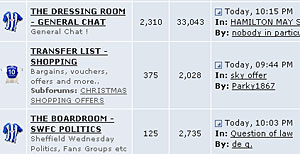 Ruling that the identity of seven of the 11 individuals should be protected, "I do not think it would be right to make an order for the disclosure of the identities of users who have posted messages which are barely defamatory or little more than abusive or likely to be understood as jokes," he added. "That, it seems to me, would be disproportionate and unjustifiably intrusive."
However, he took exception to some comments which, "may reasonably be understood to allege greed, selfishness, untrustworthiness and dishonest behaviour on the part of the Claimants."
In this case, he ruled that the claimants' right to take action to protect their reputations outweighs the authors' rights "to maintain their anonymity and their right to express themselves freely," and ordered the disclosure of the identities of four users, known only as halfpint, Ian, Vaughhan and DJ Mortimer.
Stefan Paciorek from the excellent OUT-LAW.COM IT and e-commerce legal help website commented that Hargreaves did the right thing in leaving the decision to reveal the identities up to the court.
"The guidance is really interesting. It's possibly the first case of online defamation we've had in this country where the right to privacy has outweighed the right to protect a reputation simply because defamatory comments were trivial," said Paciorek.
"Website operators might consider reviewing their terms of use in light of the court's guidance that a confidentiality policy can better protect your users' privacy," he added.
We spoke to Hargreaves and he told us that he was instructed to, "hand over their email addresses, names, home addresses and anything else that I have that may identify them," adding that the club started with a list of 34 fans they wanted to sue.
Of course, if these users had been accessing the boards via Web cafes and using accounts set up with temporary emails, it's unlikely the board owner will be able to offer any useful insights into their real life identities.
Not surprisingly, there's something of a cautious approach currently being played put on the site, with new users having to agree to the following terms before posting:
"Employees and representatives of Sheffield Wednesday PLC. are not permitted to register and use the messageboard at present.
By registering you are agreeing that no content found on this messageboard will be passed onto Sheffield Wednesday PLC or it's representatives to be used against the owner."
To be honest, we're not entirely convinced of the legality of either clause, but, frankly, who can blame 'em?