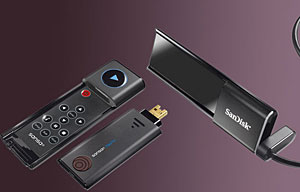 With most of the world stampeding to wireless solutions for just about everything, SanDisk reckon they've hit on a winner with their unashamedly cable-toting device.

They're claiming that their new TakeTV USB device provides an easy way to watch PC content on your TV without the need to spend ages fiddling about with your router's settings and waving your box in the air looking for a signal.
There new player takes the old school approach of using a USB device to transfer files from your PC to TV.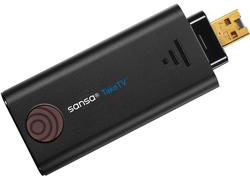 Video files are simply dragged off the desktop on to the USB TakeTV player, which then plugs into a TV cradle hardwired to the gogglebox. The TakeTV device comes with a natty holster which doubles up as a remote control.
Supporting a variety of video formats too – including DivX, XVID and MPEG-4 – the TakeTV widget works with new and legacy TV systems via standard AV composite inputs or S-Video and connects to any PC via a USB connector, with support for Windows Vista, Windows XP and the latest versions of Mac and Linux..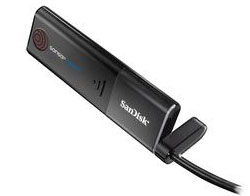 "Sansa TakeTV is the most easy-to-use, straightforward solution for watching downloaded personal video content and other shows in the comfort of the living room," purred Daniel Schreiber, the big cheese at SanDisk's audio/video US business unit.
"No confusing wireless network set-up, no wires running across the living room and no cumbersome burning of DVDs. Just use the Sansa TakeTV device to move your favourite video content over to your TV, and enjoy it on the big screen with family and friends," he enthused
The flash memory-based player comes in 4GB and 8GB flavours (attractively priced at £50 and £75), with the larger player capable of storing up to ten hours of video.
It is available in the US from today with a UK release looming on the horizon.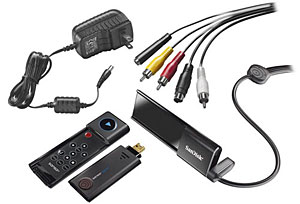 Feature List
Connects to any PC:
– USB 2.0 compliant
– Works with Mac, Linux, Windows Vista and Windows XP
Connects to any standard TV – Supported AV Outputs:
– Composite Video
– Analog Stereo
– S-Video
Remote control—for use in the comfort of your living room
Compact convenient and lightweight:
Supports a variety of video formats:
– DivX
– xVid
– MPEG-4
Supports NTSC and PAL color systems
Resolution of up to 720×576 (D1) at a bitrate of up to 7Mbps.
4:3 and 16:9 aspect ratios and a range of viewing modes
DivX (Home Theater profile) certified
DivX DRM compliant
Standard replaceable remote control battery
Minimum System Requirements
Mac, Linux, Windows XP or Windows Vista™ operating system
USB 1.1 or USB 2.0
TV with either s-video or composite (CVBS) video inputs
Package Contents
TakeTV player
TakeTV remote control (battery included)
TakeTV cradle w/intergrated cables (composite/s-video)
AC power adapter