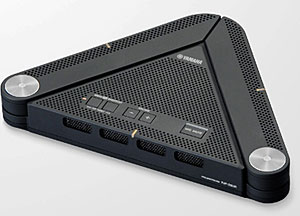 Anyone who's ever sat through long conference calls with a load of people sat around a table will be familiar with occasionally having to lurch over the desk to talk into the 'sound station' thingy.

Usually coming in circular or triangular shapes, sound stations enable conference calls by dialling into a "conference bridge" (a specialised type of equipment that links telephone lines), or by using a special telephone number.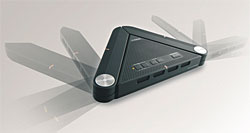 The conference facility is often set up by a specialised service provider who, quite naturally, charges to sort out the techy behind-the-scenes stuff.
However, the growth of VoIP services is providing companies with more flexible – and often cheaper – alternatives for conference calls.
Set to launch in Japan in December, Yamaha's PJP-25UR VoIP sound station looks an interesting product, sporting novel fold out arms to ensure to optimise the microphone and speaker placement.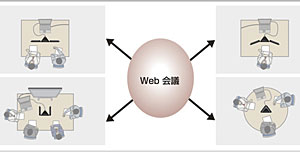 Shipping at an expected price of 63,000 Yen (that's around 270 of our lovely British pounds), the unit comes with a built-in echo canceller, USB 2.0 interface, analogue stereo mini-jack input/output with software for Microsoft Windows Vista/XP Professional/XP Home Edition.
We're all down with that spec sheet but it's a shame they couldn't have included a few pretty lights to look at while the big boss is whining on about the latest sales figures from afar.
Or a beer dispenser. Now that would be good.