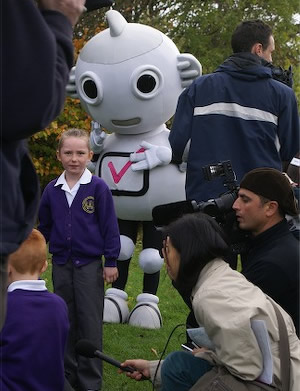 The Jericho Primary School in Whitehaven today held a 'Goodbye analogue' assembly on the eve of tomorrow's digital switchover, where analogue TV transmissions will be turned off for the first time in the UK.
The headteacher and staff couldn't have been more helpful, as members of the press from around the world converged on the school for the morning.

100 days ago, they school held an assembly covering what analogue switch off will mean to the area – and the extra availability of extra TV stations.
Today was the big day for the actual event. Lindsey Martin, the deputy head, had arranged a roll playing event for the teachers and headteacher, portraying different people in the community. This, combined with clips of TV from past and present went down really well with the children.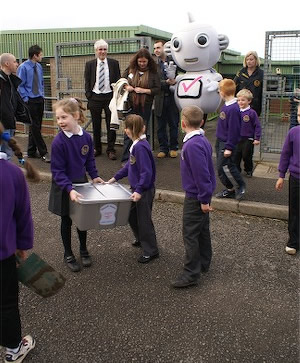 Burying Analogue Timecapsule
Following on from this was the burying of an analogue time capsule in the school grounds.
To decide the contents of the time-capsule, the teachers and children had thought in detail what would change between now and the future. Alongside an old remote control, mobile phone, The Whitehaven News and a TV listing guide shows the currently limited number of 200 channels – obvious in the future, there will be a near infinite number.
Obviously this was designed to be a press-friendly event, but the whole thing was so well done, it was a delight to take part in.
Shaun Monaghan – Head Teacher
[audio:https://digital-lifestyles.info/media/audio/Shaun-MonaghanHead-Jericho.mp3]
Lindsey Martin – Deputy Head Teacher – Time Capsule
[audio:https://digital-lifestyles.info/media/audio/lindsey-martin-deputy-head-jericho.mp3]
These on-the-spot reports were made possible by the use of USB 3G Modem, running on the Vodafone network.