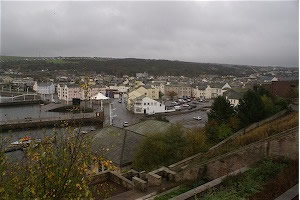 I was knocking around Whitehaven yesterday afternoon after a journey that started for me on Sunday evening when I left the Isle of Wight.
As I've come nearly the full length of the country to cover something that could, if we were a less caring publication, be done from behind a desk with a hot drink in our hands, I thought it would be worthwhile giving a break down of why Whitehaven has been chosen for Analogue switch off/ Digital switchover/whatever you want to call it.

It's Not Digital Switch-On
The reason for the confusion in naming is that frankly it's not about digital TV being switched on, as that's been available for ages around the UK by anyone with a DTT box, commonly known as a Freeview box.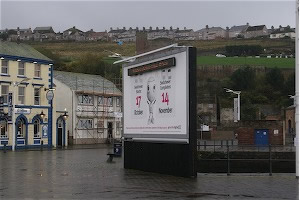 This is about an analogue station being taken away – initially BBC2 in Whitehaven's case – to be replaced with only digitally-delivered stations – initially five.
Given this, Switch-over is probably the best description.
What makes Whitehaven special?
Speak to anyone in Whitehaven and you'll hear that they've been holding the mucky end of the TV reception stick for a long time. There's no analogue Channel 5, Channel 4 is usually dodgy and some people even have problems with ITV. There's certainly no Freeview reception – at all, oh, and there's no DAB radio either. They're living in an area of transmitted TV dearth.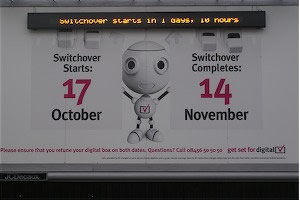 Reason being that the place is nestled below hills all around and there a large expanse of sea on the North West side. The TV signals from the transmitters still on the hills above simply passes over them.
The theory with those at Digital UK who choose locations, is that this makes Whitehaven ideal candidates to receive the full set of DTT channels – probably because the residents will be ever so grateful to have them. Other reasons officially used are a good spread of age ranges, – including quite a lot of older people, which is a good challenge to convert – as well as a spread of socioeconomic groups.
As I've mentioned, Digital UK have been pilling effort, money and resources into this town to ensure success, tomorrow will start to show if it's all be worthwhile.
These on-the-spot reports were made possible by the use of USB 3G Modem, running on the Vodafone network.