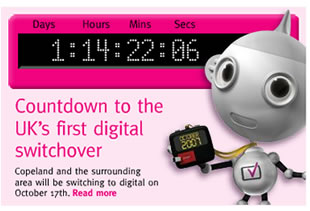 We're dragging our sorry bones up to Whitehaven, Cumbria to join the media bandwagon to witness the first UK town to have their analogue TV signal to be turned off.
We've covered the build up to this pretty extensively, as it's a major change to the way that television is received by 'normal' punters – yes it's happened in quite a few other places already, like Berlin, but this is our home turf.

What's happening?
Analogue switch off is happening in a couple of stages. Tuesday, there's a big build up which we'll keep you up to speed on – some of it sounds a little tenuous, like the 09:10 – last analogue assembly at Jericho Primary School.
Wednesday morning at 03:15 02.00 the analogue BBC 2 service will be switched off, and at 4am in its place a number of digital channels will start – BBC1, BBC2, BBC Three, BBC News 24 & CBBC.
If this goes well – and Digital UK will be praying it will, as there's a huge amounts of effort are being put into the success of this, with any sort of failure at this early stage casting a cloud over the whole forthcoming process – the rest of the analogue service will be turned off four weeks later on 14 November, giving access to around 20 Freeview channels and digital radio via a digital aerial.
We plan to cover the views of the people who will be effected by the switchover – how it hits the wo/man in the street. Expect podcasts if we can find willing participants.
Despite what appears to be the best efforts of DigitalUK, it sounds like there's going to be some analogue stragglers. The management of the place that we're staying at while we're up there, told us that they sorted their digital box back in May, but that many people were leaving it to the last minute.
It's not just the type of box that will show people their telly that is important, but beyond full analogue switch off in 2012, it's the applications that will be made from the huge amounts of freed up bandwidth that excites us.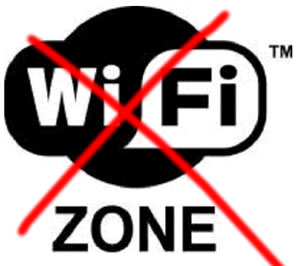 No WiFi For Journos
How about this for fully embracing the digital world? One huge omission is that DigitalUK will not be providing any WiFi access at their press office. What's the point of encouraging the UK and World's journalists to the Northern climes of the UK and not provide them with the means of getting their stories back? – Beyond belief in our book.
Stay tuned – pun fully intended.
These on-the-spot reports were made possible by the use of USB 3G Modem, running on the Vodafone network.