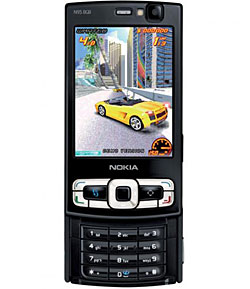 Looking the soon-come iPhone straight in the iEye and saying, "Eat my feature list, Jobsie!" is the updated Nokia N95 8GB handset packing – as the name suggests – 8GB of built-in storage.
Starting global shipments from today, the Nokia N95 8GB boasts a slightly bigger 2.8″ QVGA display (although still stuck at the lowish 320×240 pixels resolution) and the same 2-way slide out screen.

Like its predecessor, the N95 comes with an impressive roll call of features including a 5 megapixel camera packing Carl Zeiss optics, built-in A-GPS, WLAN and HSDPA, with the increased 8GB storage offering up to 20 hours of video or around 2,000 songs.
It's a case of one step forward and one step back though, as Nokia have ditched the MicroSD card slot – so 8GB is as good as it's going to get.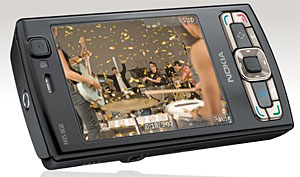 "Our Nokia Nseries family has expanded with added pizzazz and performance with the Nokia N95 8GB, a device as personal as it is powerful," purred Jonas Geust, vice president, Multimedia, at Nokia.
"We've reached a pinnacle with the Nokia N95 and now with the addition of one of the largest ever displays, built-in Assisted-GPS and improved battery power, the Nokia N95 8GB takes entertainment enjoyment to another level," he added.
To celebrate the launch, Nokia has done a back-slapping, synergetic movie tie-in, with the N95 shipping with with the full-length Spider-man 3 movie loaded on the phone.
A painfully contrived press release attempted to make sense of this seemingly random connection, insisting that , "The Movie sees Spider-Man's suit turn jet-black and enhance his powers and, in its latest incarnation, the Nokia N95 has undergone a similar transformation to emerge as the Nokia N95 8GB."
O Rly? Ya, rly.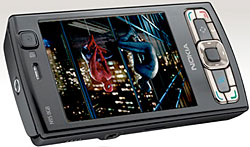 The self styled "multimedia computer" will be hitting the retail stores today for €560, pre-tax and pre-carrier subsidy.
Specifications:
Operating Frequency
WCDMA 2100 + E850/900/1800/1900MHz
Automatic switching between bands and modes
Dimensions
Volume: 96 cc
Weight: 128 g
Length (max): 99 mm
Width (max): 53 mm
Thickness (max): 21 mm
Memory Functions
Up to 100MB internal dynamic memory for messages, ringing tones, images, video clips, calendar notes, to-do list and applications
Up to 8GB internal flash memory for multimedia content such as music, pictures, ringing tones, map data
Power Management
Battery: Nokia Battery (BL-6F) 1200mAH
Talk time: up to 210 min (WCDMA), up to 300 min (GSM)
Stand-by time: up to 280 hours (WCDMA and GSM)
Display
Large 2.8″ QVGA (240 x 320 pixels) TFT display with ambient light detector and up to 16 million colours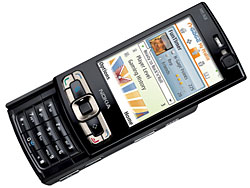 User Interface
Operating system: S60 software on Symbian OS
User interface: S60 3rd Edition, Feature Pack 1
Dedicated Media Keys
Multimedia Menu
Active standby screen
Call Management
Contacts: advanced contacts database with support for multiple phone and e-mail details per entry, also supports thumbnail pictures and groups
Speed dialling
Logs: keeps lists of your dialled, received, and missed calls
Automatic redial
Automatic answer (works with compatible headset or car kit only)
Supports fixed dialling number, which allows calls only to predefined numbers
Conference call
Nokia Push to talk (PoC)
Voice Features
Speaker independent name dialling (SIND)
Voice commands
Voice recorder
Talking ringtone
Integrated hands-free speaker
Messaging
Text messaging: supports concatenated SMS, picture messaging, SMS distribution list
Multimedia messaging: combine image, video, text, and audio clip and send as MMS to a compatible phone or PC; use MMS to tell your story with a multi-slide presentation
Automatic resizing of your megapixel images to fit MMS (max 300 KB size depending on the network)
Predictive text input: support for all major languages in Europe and Asia-Pacific
Data Transfer
WCDMA 2100 (HSDPA) with simultaneous voice and packet data (PS max speed UL/DL= 384/3.6MB, CS max speed 64kbps)
Dual Transfer Mode (DTM) support for simultaneous voice and packet data connection in GSM/EDGE networks. Simple class A, multi slot class 11, max speed DL/UL: 177.6/118.4 kbits/s
EGPRS class B, multi slot class 32, max speed DL/UL= 296 / 177.6 kbits/s
GPRS class B, multi slot class 32, max speed DL/UL= 107 / 64.2 kbits/s
Digital Services
Java and Symbian applications available from Nokia Software Market
Java MIDP 2.0, CLDC 1.1
Flash Lite 2.0
Imaging and Video
Up to 5 megapixel (2592 x 1944 pixels) camera, Carl Zeiss Optics, Tessar lens, MPEG-4 VGA video capture of up to 30 fps
Direct connection to compatible TV via Nokia Video Connectivity Cable (CA-75U, included in box) or wireless LAN/UPnP
Front camera, CIF (352 x 288) sensor
Video call and video sharing support (WCDMA network services)
Integrated flash
Digital stereo microphone
Flash modes: on, off, automatic, red-eye reduction
Online album/blog: photo/video uploading from gallery
Nokia Lifeblog 2.0 support
Video and still image editors
Mobile Video
Video resolutions: up to VGA (640×480) at 30 fps
Audio recording: AAC mono
Digital video stabilization
Video capture: up to 215 min (VGA, 30fps)
Video file format .mp4 (default), .3gp (for MMS)
White balance: automatic, sunny, cloudy, incandescent, fluorescent
Scene: automatic, night
Colour tones: normal, sepia, black & white, negative, vivid
Zoom: Digital up to 10x (VGA up to 4x)
Mobile Photography
Image resolution: up to 5 megapixel: (2592 x 1944 pixels)
Still image file format: JPEG/EXIF
Auto focus
Auto exposure – center weighted
Exposure compensation: +2 ~ -2EV at 0.5 step
White balance: automatic, sunny, cloudy, incandescent, fluorescent
Scene: automatic, user, close-up, portrait, landscape, sports, night, night portrait
Color tone: normal, sepia, black & white, negative, vivid
Zoom: Digital up to 20x (5 megapixel up to 6x)
Viewfinder grid
Camera Specifications
Sensor: CMOS, 5 megapixel (2592 x 1944)
Carl Zeiss Optics: Tessar™ lens
Focal length 5.6 mm
Focus range 10 cm ~ infinity
Macro focus distance 10-50 cm
Shutter speed: Mechanical shutter: 1/1000~1/4 s
Music Features
Digital music player – supports MP3/AAC/AAC+/eAAC/eAAC+/WMA/M4A with playlists and equalizer.
Integrated handsfree speaker
OMA DRM 2.0 & WMDRM support for music
Stereo FM radio (87.5-108MHz /76-90MHz)
Navigation
Built-in GPS with A-GPS support
E-mail
Easy-to-use e-mail client with attachment support for most images, videos, music and documents
Browsing
Nokia Web Browser with Mini map
Digital home
Play video, music and photos on home media network – compatible TV, stereo and PC over WLAN/UPnP (Universal Plug and Play)
Java Applications
Java MIDP 2.0, CLDC 1.1 (Connected Limited Device Configuration (J2ME))
Over-the-air download of Java-based applications and games
Other Applications
Personal Information Management (PIM)
Advanced S60 PIM features including calendar, contacts, to-do list, and PIM printing
Settings Wizard for easy configuration of e-mail, push to talk and video sharing.
Data transfer application for transfer of PIM information from other compatible Nokia devices.
WLAN wizard
Connectivity
Integrated wireless LAN (802.11 b/g) and UPnP (Universal Plug and Play)
Bluetooth wireless technology with A2DP (Bluetooth stereo audio)
USB 2.0 via Mini USB interface and mass storage class support to support drag and drop functionality
3.5 mm stereo headphone plug (Nokia AV Connector) and TV out support (PAL/NTSC)
Nokia PC Suite connectivity with USB and Bluetooth wireless technology
Local synchronization of contacts and calendar to a compatible PC using Nokia Nseries PC Suite
Remote over-the-air synchronization
Send and receive images, video clips, graphics, and business cards via Bluetooth wireless technology
Video
RealPlayer media player
Full-screen video playback to view downloaded, streamed or recorded video clips
Stream media files from compatible media portals
Supported video formats: MPEG-4, H.264, H.263/3GPP, RealVideo 8/9/10