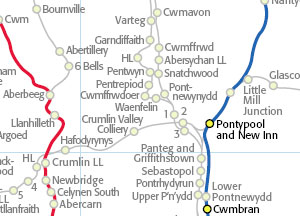 Following on from our piece yesterday looking at plethora of railway related websites.
I remember Adlestrop
Another fantastic resource is the New Adlestrop Railway Atlas, which offers a clear and crisp historical atlas of Britain's railways, mapping passenger lines, stations and freight routes, both extant and abandoned.

Produced as a one meg PDF download, the map currently covers Wales, the Midlands, East Anglia, Yorkshire and the South and provides a comprehensive and detailed listing of railway lines loved, lost and forgotten.
It's already a superb piece of work, and the author intends to add a searchable index to stations, with enlargements of the London and Birmingham areas.
Oh, and why 'Adlestrop'? See below for the answer!
Other railway sites
With railways being a near-religious calling to some folks, there's no shortage of quirky/interesting/weirdly obsessive sites out there, and here's a few of our favourites:
Described as "basically a collection of pictures and maps and diagrams and sketches, and other odd things that have been discussed from time to time in the Usenet newsgroup, uk.railway," Joyce's World of
Transport Eclectica includes an interesting collection of scanned documents.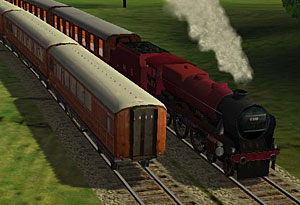 One map shows the full extent of Beeching's proposed cuts of 1961 which makes for scary reading. If he'd had his way, there wouldn't have been any trains at all in Scotland north of Inverness!
Dedicated to old transport films, the British Transport Films archive provides a short history, film stills and a comprehensive listing of the output of this curious unit (although, sadly, no actual films).
However, a small selection of archive transport films can be seen or downloaded at the British Film Institute web site. We rather enjoyed the "Panorama of Ealing from a Moving Tram", dating from 1901.
For the signal box aficionado (and there must be a few of you out there), there's little to rival the appropriately named Signal Box website, which documents hundreds of examples of the fast-disappearing trackside fixture.
Such is the attraction of railways, even the "drugs and anarchy" website urban75 gets in on the act, with an abandoned railways section containing a feature on the utterly bonkers Brighton Sea Railway.
Technology meets trainspotting
Perhaps the true spirit of the dedicated trainspotter lives on in YouTube, where technology and obsession meet head on to provide near-unlimited footage of trains shuffling in and out of stations, rumbling along tracks or just standing still in a siding somewhere.
Here the train nut can let their love of railways run rampant, uploading endless videos of worryingly obscure train-related footage, with one of the most bizarre being a wobbly recording of a train announcement from a Holyhead-bound train, which looks like it was secretly recorded by the train toilets.
Others may also get more from the 20 second Trainspotting Seagull at Cardiff Central clip than we did.
Thanks to modern software, train buffs never need leave the comfort of their bedroom front room any more, thanks to advanced train sim software that authentically replicates journeys on screen in vivid detail.
And who could possibly fail to be moved by this animation of an Arriva train powering through Wales while the Blue Oyster Cult's, 'Don't Fear The Reaper' blasts out in the background? (*entire office puts both hands down)
Adlestrop: the answer
Oh, and in answer to our question, the website was named after a poem by Edward Thomas, describing a deserted station he passed by in 1914.
Yes. I remember Adlestrop —
The name, because one afternoon
Of heat the express-train drew up there
Unwontedly. It was late June.
The steam hissed. Someone cleared his throat.
No one left and no one came
On the bare platform. What I saw
Was Adlestrop—only the name
And willows, willow-herb, and grass,
And meadowsweet, and haycocks dry,
No whit less still and lonely fair
Than the high cloudlets in the sky.
And for that minute a blackbird sang
Close by, and round him, mistier,
Farther and farther, all the birds
Of Oxfordshire and Gloucestershire.

Adlestrop station closed in 1966.
[Mike Slocombe is Editor of urban75 which covers more than just abandoned railways]