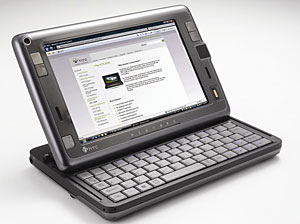 Getting ready to dash into the shops by the end of the month is HTC's new Ultra-Mobile PC (UMPC), the HTC Shift.
Packing a 7-inch 800 x 480 pixel touchscreen and QWERTY keyboard into its 207x/129×25 mm body, the Shift lives up to is name with the screen tilting upwards to provide a laptop-like experience.

Weighing just 800g, the HTC Shift gives you the full Microsoft Windows Vista experience but cunningly lets you quickly
access important info – like e-mails, your calendar, SMS messages and contacts – without having to load up the full OS, thanks to the company's new SnapVUE technology.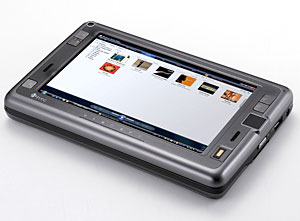 Sniffing around inside, we can see an Intel A110 800Mhz processor, backed by Intel GMA950 graphics, 1GB of RAM and a 30GB hard disk.
The HTC is a veritable carnival of connectivity, offering tri-band HSDPA and quad-band GSM, GPRS and EDGE, plus 802.11b/g Wi-Fi, Bluetooth 2.0, USB 2.0 and a SD card slot.
With a claimed battery life of two days (or three to four hours of full notebook computer usage) this might appeal to road warriors fed up with lugging hefty laptops about.
Although we love the idea of an instant-on small laptop (Foleo anyone?) the price has a bit of a nasty bite, with the HTC Shift retailing for around 1,199 Euros (£835).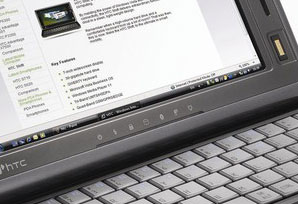 Specs at a glance:
7-inch widescreen display
30-gigabyte hard drive
QWERTY keyboard
Microsoft Vista Business OS
Windows Media Player 11
Tri-Band UMTS/HSDPA
Quad-Band GSM/GPRS/EDGE
WiFi and Bluetooth 2.0