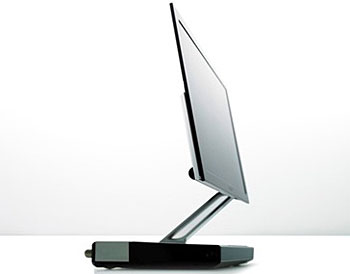 Blimey. We've seen thin TVs before but Sony's new Drive XEL-1 OLED TV makes most of them look like pie scoffing gorillas at a lard-fest in comparison.

(Like the way we made the image of the thin screen so wide?)
Measuring just 3-mm thin – officially slimmer than a gnat's nadgers – the OLED TV packs a bedroom-sized 11-inch screen, supporting a 960 x 540 pixel resolution, with the screen sitting on a curiously offset cantilever arm made from aluminium (or aloom-in-num as our Stateside cousins may say it).
Sony are bigging up the screen's 'Super Top Emission' technology, which claims to deliver high colour purity with a mighty contrast ratio of 1,000,000:1, which should have no problem sorting out your dark greys from blacks.
Lurking in the base of the unit is a terrestrial digital tuner with connectivity options taking the shape of HDMI, USB, and Ethernet jacks.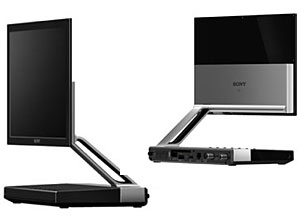 Neighbours and sleeping moms are unlikely to be disturbed by the onboard set of two extremely modest built-in 1W speakers.
The whole caboodle measures up at 287 x 140 x 253-mm, weighs 2kg (3.3-pounds), with a 45w power consumption rate and comes with a price tag high enough to make grow men weep at 200,000 Yen (that's around $1,740).
Seeing as this is first generation technology, the price is sure to come down, so I guess us mere mortals will have to wait a few years before we can get our hands on this superslim technology – and then preferably as a 24″ OLED in all-in-one Vaio PC.
The Sony Superslim Drive XEL-1 OLED TV will be released in Japan from 1st December.