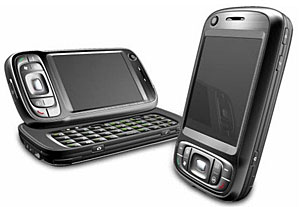 Expected to be shimmying onto T-Mobile's shelves as your peepers traverse this line of text is the new MDA Vario III smartphone (also known as the HTC Kaiser).
Veritably bulging with functionality, the Windows Mobile 6 powered PocketPC packs a built-in GPS receiver, Wi-Fi and three megapixel camera.

What sets this handset out from the pack is the unusual 2.8-inch 240 x 320 pixel touch-screen which slides out and can be tilted upwards to offer a 'mini-laptop' experience, with a fairly spacious QWERTY keyboard below.
Like a boy band bigging up their new album, T-Mobile insists that the Vario III takes PDA handsets "to the next level," with the phone ready and willing to give users, "the ultimate mobile experience," thanks to superfast 3.6 Meg HSDPA download speeds.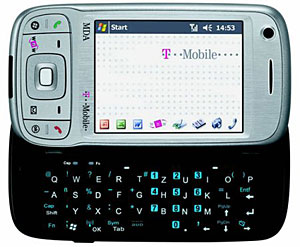 The built in GPS sure might come in handy for getting directions to the next level, and if it proves hard to find, users can always invest in the optional CoPilot Live 7 sat nav for spoken directions, live traffic info and mobile location tracking.
Business types will no doubt punch the air at the sight of the onboard Microsoft Outlook, Word and PowerPoint applications, while the Bluetooth and microSD card slot offer 'kicking back' multimedia possibilities.
Mind you, ramming all that technology into the phone has resulted in something of a Fatty Arbuckle waistline, with the beefy fella measuring up at a pocket-straining 59mm x 112mm x 19mm and weighing 160g.
The lardy-boy smartphone will be available from free on T-Mobile's Flext 50 tariff (£45 a month) and is apparently available now (even though the T-Mobile site still has it listed as 'coming soon').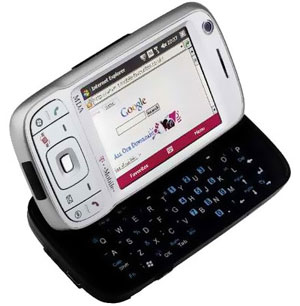 T-Mobile MDA Vario III Specs
Operating System: Windows Mobile 6 Professional AKU 0.3.1
CPU: 32bit Qualcomm MSM7200 (SoC)
CPU Clock: 400 MHz
Memory, Storage capacity
ROM capacity: 256 MB
RAM capacity: 128 MB (accessible: 101.6MB)
Display
Display Type: colour transflective TFT , 65536 scales
Display Resolution: 240 x 320
Display Diagonal: 2.8 "
Sound
Microphone: mono
Speaker: mono
Audio Output: Proprietary jack
Cellular Phone
Cellular Networks: GSM850, GSM900, GSM1800, GSM1900, UMTS850, UMTS1900, UMTS2100
Cellular Data Link: CSD, GPRS, EDGE, UMTS, HSDPA
Call Alert: 72 -chord melody
Vibrating Alert: Supported
Control Peripherals
Positioning Device: Touchscreen
Primary Keyboard: Slide-out QWERTY-type keyboard, 41 keys
Directional Pad: 5 -way block
Jog / Scroll Wheel: Pressable rotary scroll wheel
Interfaces
Expansion Slots: microSD, microSDHC, TransFlash, SDIO
Serial: RS-232 , 115200bit/s
USB: USB 2.0 client, 480Mbit/s , USB Series Mini-B (mini-USB) connector
Infrared Gate: Nope
Bluetooth: Bluetooth 2.0
Wireless LAN: 802.11b, 802.11g
Multimedia Telecommunication
Analog TV: Nothin' doing
Analog Radio: No sir
Satellite Navigation
Built-in GPS: NMEA 0183 , 20 channels
Built-in Digital Cameras
Main Camera: CMOS sensor, 3.1MP
Autofocus (AF): Supported
Built-in Flash: You'll have to use a match
Secondary Camera: CMOS sensor, 640×480 pixel
Power Supply
Battery: Lithium-ion polymer , removable
Battery Capacity: 1350 mAh
Dimensions: 59 x 112 x 19 millimetres
Mass: 160 grams (battery included)