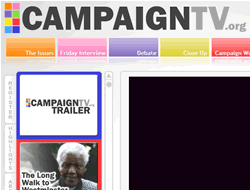 With rumours of a possible election in the UK, we wonder if there's a co-incidence that one of the Labour parties media strategist has launched a Web site called CampaignTV.org, whose major focus is on politics.
Don't expect too much balance in the politics on offer, but they're not hiding that away either. In their words, "CampaignTV is the first free to view, independently-owned Labour-supporting internet TV channel." That's fair enough, as there's plenty of pro-Conservative Web site around.

It's managed by a currently small team, Stewart Till CBE, former Chief Executive of UIP film distribution and currently Chairman of Millwall FC; Gez Sagar, publisher, is a former chief press officer for the Labour Party and Mark Lucas, director, has worked on campaigns for the Labour Party
The founders reasons to start it? An "urgent need for a progressive challenge to the dominance of right-leaning political content on the internet. It's the place to find films making a case for the Labour Party, for trade unions and for other progressive campaigns."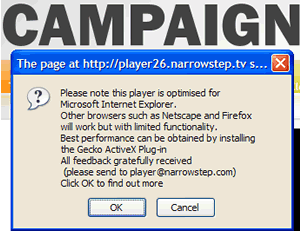 The first Friday Interview on the site is between Michael Wight, Assistant Editor of The Guardian and Alastair Campbell, never slow to promote the Labour Party … or his recently released book. If you've got some spare time, it's well worth watching the interview.
There's downloadable versions of the videos for mobile phones as well as iPod-type devices – as long as you agree to their terms and conditions first.
Strangely for a site that clearly is hoping to attract as many viewers as possible, the first time you go to the site with Firefox, it recommends that you use Microsoft's Internet Explorer. Sadly it also uses the Microsoft Media player and not a Flash player that would make it accessible to lots more people.