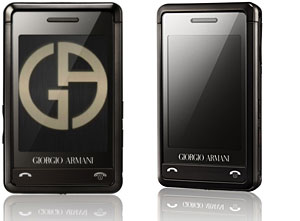 Hot off the high end product presses and ready to burn a hole in the pockets of the fashion conscious is the glitzy Armani phone.
The result of a collaboration with Samsung, this Prada-esque slice of ostentatious consumption packs an interesting innovation in the shape of a haptic feedback user interface.

"Whassat?!" we here you ask. Well, haptics (pronounced Hap-tiks) is the science of applying touch (tactile) sensation and control to computer interfaces. Or, to put it another way, the thing vibrates when you shove your ruddy great dirty mitts on an icon or a control on the screen.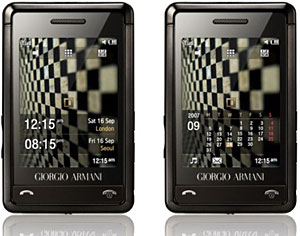 Although we find virtual onscreen keyboards to be as intuitive as a jelly steering wheel and less fun to use, the Armani one will at least – in thepry – make it feel that you're really connecting with the phone rather than just sliding over a bit of glass.
We'd still prefer a proper hardware keyboard with crazy ol' things like proper buttons you can feel for yourself, thanksverymuch.
Shuffling through the wafer-thin selection of specs released so far, we can tell you that the Armani packs tri-band 900/1800/1900 GSM connectivity, Bluetooth 2.0 with A2DP support and a 3 megapixel camera.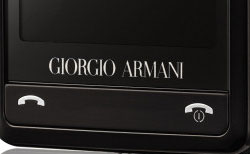 There's also a microSD expansion slot onboard, a full Internet browser with multimedia support coming in the shape of H.263, AAC/MP3/WMA audio and MPEG-4 video formats.
The front of the camera is dominated by the 2.6-inch 262K colour QVGA touchscreen LCD, with a thumping huge GIORGIO ARMANI slapped underneath. If we ever used one of those phones, the first thing we'd do would be to rub the awful logo off pronto, but we guess it must impress some people.
The phone measures up at 87.5 x 54.5 x 10.5-mm and 85 grams and is expected to be ready to appeal to the throbbing wallets of European fashionistas some time from November.